Save Cambodia's Wildlife (SCW)
About the Partnership
ODC and Save Cambodia's Wildlife formed a collaborative partnership in October 2012 to produce the second edition of the Atlas of Cambodia. The new atlas, published in 2014, is the successor to SCW's 2006 edition, updated to reflect Cambodia's rapidly changing socio-economic and environmental landscapes. ODC's mapping expertise and open data platform complemented SCW's existing knowledge to produce a more comprehensive and widely accessible atlas. Collaboration on this project supported both organizations' objectives of promoting information transparency.
During the project, ODC and SCW received support from the GIZ GIS adviser to the Royal University of Agriculture's Faculty of Land Management and Land Administration. The adviser assisted with training SCW and ODC in Quantum GIS open source mapping software, imparting vital skills to the teams who contributed to the atlas's development.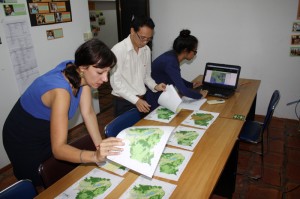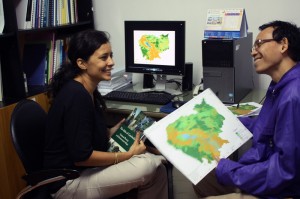 About the Atlas of Cambodia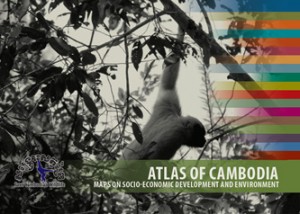 The atlas was published in print by SCW and online by ODC in early 2014. It offers fresh information about the changing spatial structures of Cambodia's geography as well as its economic and social development, especially natural resource and environment management. The atlas project provides users with high quality information, aiding people's understanding of the relationship between natural resources and economic and social development in Cambodia. The atlas is designed to provide a frame of reference for planning departments within government ministries when developing strategies for using Cambodia's natural and human resources.
Atlas of Cambodia maps are available as layers on ODC's interactive map page and are also downloadable. Online publication adds a new dimension to the atlas, allowing users to use the maps in dynamic ways and in conjunction with other ODC maps. About 40 new map layers will be added to the ODC interactive map as a result of this project – a significant addition to the existing layers.
SCW also has plans to develop a low-literate video version of the atlas to support wide dissemination and accessibility of the data.
What's inside the Atlas of Cambodia 2013?
– 69 maps including lists with all meta data – 18 chapters including an authors and contributors list – 184 pages including photographs and visual aids
About Save Cambodia's Wildlife

SCW is an NGO focused on nature conservation and biodiversity preservation in Cambodia. Since being established in 2000, SCW has promoted the protection of important natural resources by increasing people's environmental awareness through teaching programs, publications and other campaigns. Read more about SCW's work at its website.