Data on forest cover is essential for effective forest management and conservation. It enables policymakers to make informed decisions about forest management, such as identifying conservation areas, tracking changes in forest cover, and identifying areas at risk of deforestation. The forest cover profile page contains ...
According to the report on Cambodia Forest Cover 2018 issued on December 2020 by the Ministry of Environment (MoE),1 Cambodia has conducted eight national forest assessments in 1958/65, 1992/93, 1996/97, 2002, 2006, 2010, 2014, 2016, and 2018. The forest cover assessment from 1958-1965 has not ...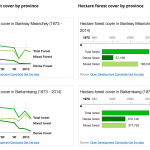 Depicts the bar graphs that analyses Cambodia's forest cover change and forest cover distribution from 1973-2014 on a national and provincial level. ...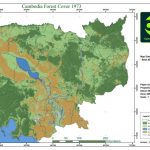 N.B. After receiving feedback from Forestry Administration and other organizations, ODC has updated the data on this page and included forest cover 2014, adopting the methodology outlined in the notes that you can read here. Please contact us if you have any questions about these ...