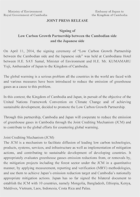 On April 11, 2014, the signing ceremony of "Low Carbon Growth Partnership between the Cambodian Side and Japanese Side" was held at Cambodiana Hotel between H.E. Say Samal, Minister of Environment and H.E. Mr. Kumamaru Yuji, Ambassador of Japan to the Kingdom of Cambodia. ...
 Ministry of Environment


Contact us
Thank you for taking the time to get in contact!