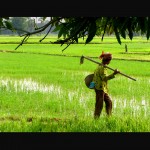 Agriculture in Cambodia accounts for approximately 56% of the labour force. The size of the sector means that policies developed here have a significant impact on the whole country. Agricultural policy and administration is managed by the Ministry of Agriculture, Forestry and Fisheries (MAFF). There ...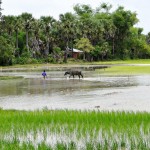 Rice field in Cambodia's countryside. Photo by fmpgoh, taken on 15 July 2009. Licensed under CC BY-NC-ND 2.0The main products from the agriculture sector are rice, rubber, corn, vegetables, cashews and cassava. Unprocessed agricultural exports were projected to be more than 90 percent of total agricultural ...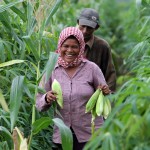 Farmers harvest corn from their farms, Cambodia. Photo by World Bank/Chhor Sokunthea, taken on 17 July 2013. Licensed under CC BY-NC-ND 2.0Key agricultural commodities and products include rice, rubber, corn (maize), vegetables and fruit, and cassava (tapioca). More than 90 percent of Cambodia's agricultural exports ...