Outcomes of the working visit of Prime Minister of the Kingdom of Cambodia to Turkey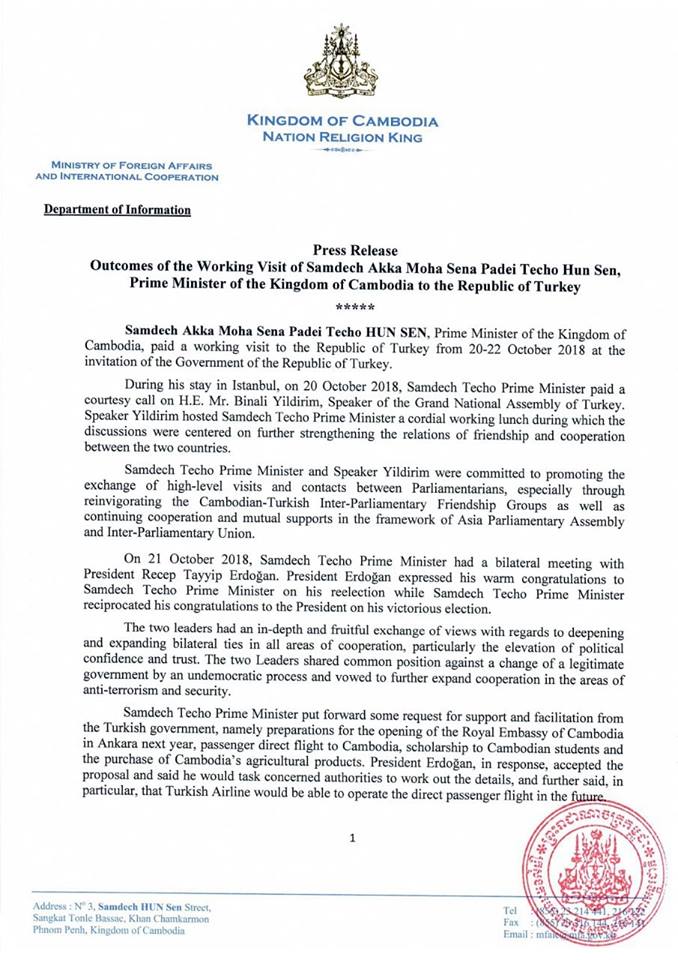 From 20-22 October 2018, Prime Minister Hun Sen, paid a working visit to the Republic of Turkey at the invitation of the Government of the Republic of Turkey. During his stay in Istanbul, Mister Prime Minister paid a courtesy call on H.E. Mr. Bainali Yildirim, Speaker if the Grand National Assembly of Turkey and discussed on further strengthening the relations of friendship and cooperation between the two countries. The Prime Minister also had a bilateral meeting with President Recep Tayyip Erogan to discuss in-depth exchanging of views with regards to deepening and expanding bilateral ties in all areas of cooperation, particularly the elevation of political confidence and trust.
At the conclusion of the bilateral meeting, both Kingdom of Cambodia's Prime Minister and Turkish President presided over the signing ceremony of eight agreements/MoU:
Agreement on Cultural Cooperation;
Agreement on Cooperation in the Field of Education;
Agreement on Cooperation in the Field of Sports;
Memorandum of Understanding on Cooperation in Field of Agriculture;
Agreement on Cooperation in the Field of Water Resources;
Agreement on Cooperation in the Field of Tourism;
Agreement on the Reciprocal Promotion and Protection of Investment;
Memorandum of Cooperation between the Cambodian Mine Action and Victim Assistance Authority and Turkish National Mine Action Centre.
 Ministry of Foreign Affairs and International Cooperation