Press release on signing ceremony and launching the grant for the project of improving school environment and providing educational facilities between government of Cambodia and People's Republic of China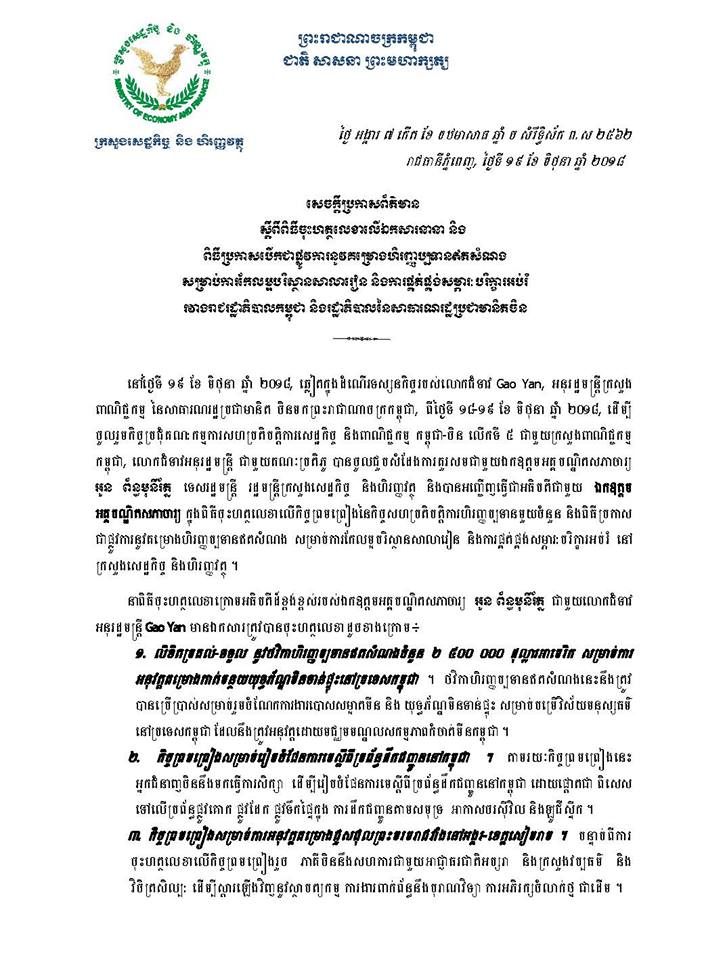 On 19 June 2018 Her Excellency Gao Yan, Deputy​ of Commerce of People's Republic of China and His Excellency Nat Bunroeun announced the official opening of the grant from China for improving the school environment and educational facilities through the construction of 26 building for high school and 3 teacher training centres respectively in Phnom Penh, Kampong Cham, and Kandal province. During the grant launching, there is also the signing ceremony between Her Excellency Gao Yan and His Excellency Aun Pornmoniroth on various of documents as following:
The grant of USD 2.5 million for the implementation of the project to reduce the Unexploded Ordnance in the Cambodia, which will be implemented by the Cambodian Mine Action Center (CMAC).
The agreement for the master planning of transportation systems in the country.
The agreement for the implementation of the project to repair the palace at Angkor, Siem Reap
In this press release also states that from 2001 to 19 June 2018, Government of the People's Republic of China has pledged assistance worth a total of about 5 276 million in grants and interest-free loan totaling approximately USD 1 221 million.
 Ministry of Commerce