Press release on the EU launches procedure to temporarily suspend trade preferences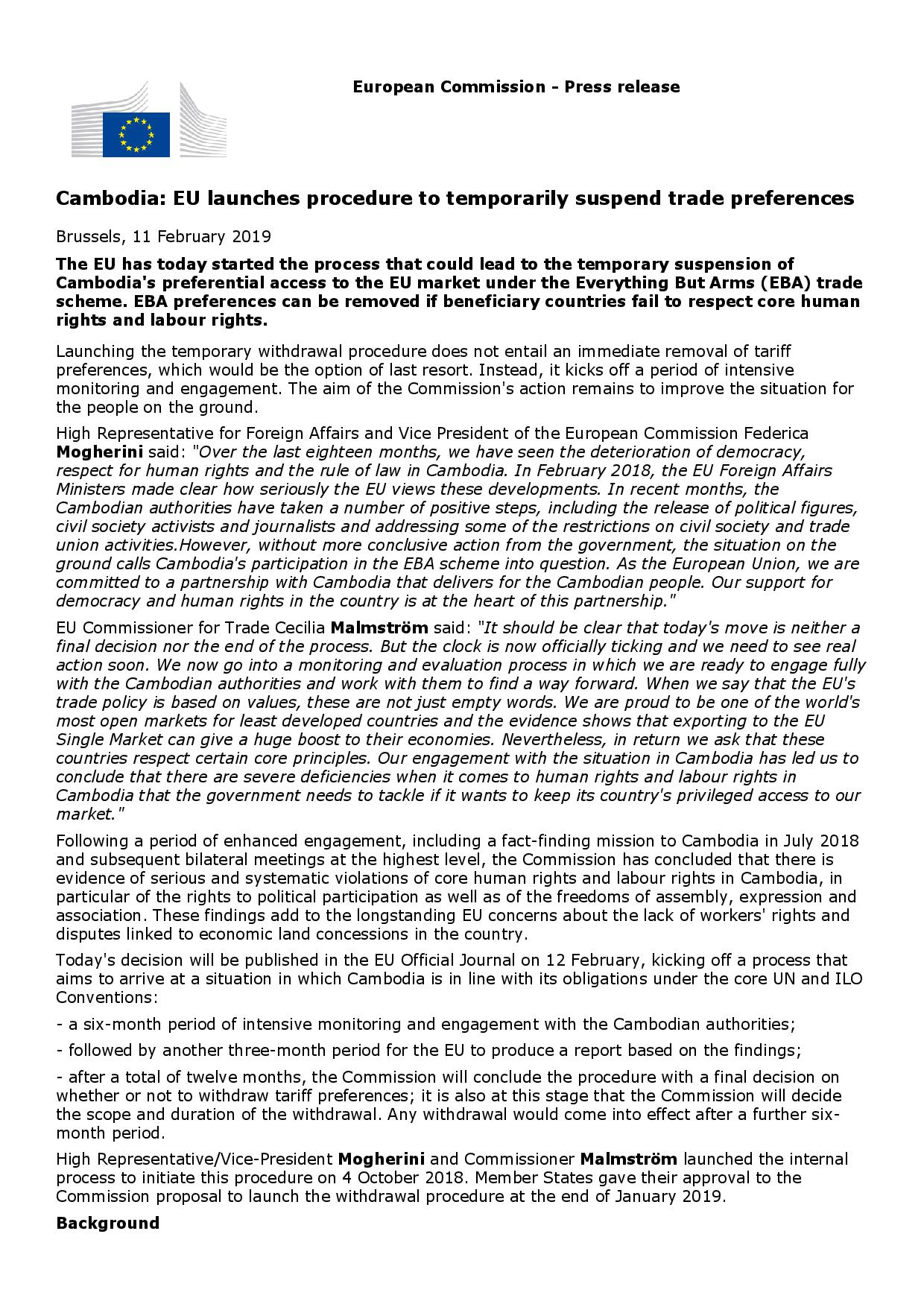 On 11 February 2019, The EU has today started the process that could lead to the temporary suspension of Cambodia's preferential access to the EU market under the Everything But Arms (EBA) trade scheme. EBA preferences can be removed if beneficiary countries fail to respect core human rights and labour rights.
Launching the temporary withdrawal procedure does not entail an immediate removal of tariff preferences, which would be the option of last resort. Instead, it kicks off a period of intensive monitoring and engagement. The aim of the Commission's action remains to improve the situation for the people on the ground.
Today's decision will be published in the EU Official Journal on 12 February, kicking off a process that aims to arrive at a situation in which Cambodia is in line with its obligations under the core UN and ILO Conventions:
a six-month period of intensive monitoring and engagement with the Cambodian authorities;
followed by another three-month period for the EU to produce a report based on the findings;
after a total of twelve months, the Commission will conclude the procedure with a final decision on whether or not to withdraw tariff preferences; it is also at this stage that the Commission will decide the scope and duration of the withdrawal. Any withdrawal would come into effect after a further six month period.
High Representative/Vice-President Mogherini and Commissioner Malmström launched the internal process to initiate this procedure on 4 October 2018. Member States gave their approval to the Commission proposal to launch the withdrawal procedure at the end of January 2019.
 European Commission