Development Assistance Committee (DAC) members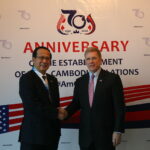 The United States of America (the US) is one of the biggest donors to Cambodia.1 2 The history of cooperation and relations between the two countries can be traced back to the early 1950s after Cambodia received full independence from France. In 1955, the first ...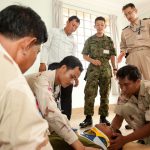 Japanese military members observe as Cambodian sailors attach a neck brace to a patient during a Pacific Partnership knowledge exchange in Sihanoukville, Cambodia. Photo by U.S. Pacific Fleet, taken on 21 June 2014. Licensed under CC BY-NC 2.0Japan, through its official development branch called Japan ...