CCHR: Cambodia needs to respect women's rights to self-determination, expression and bodily integrity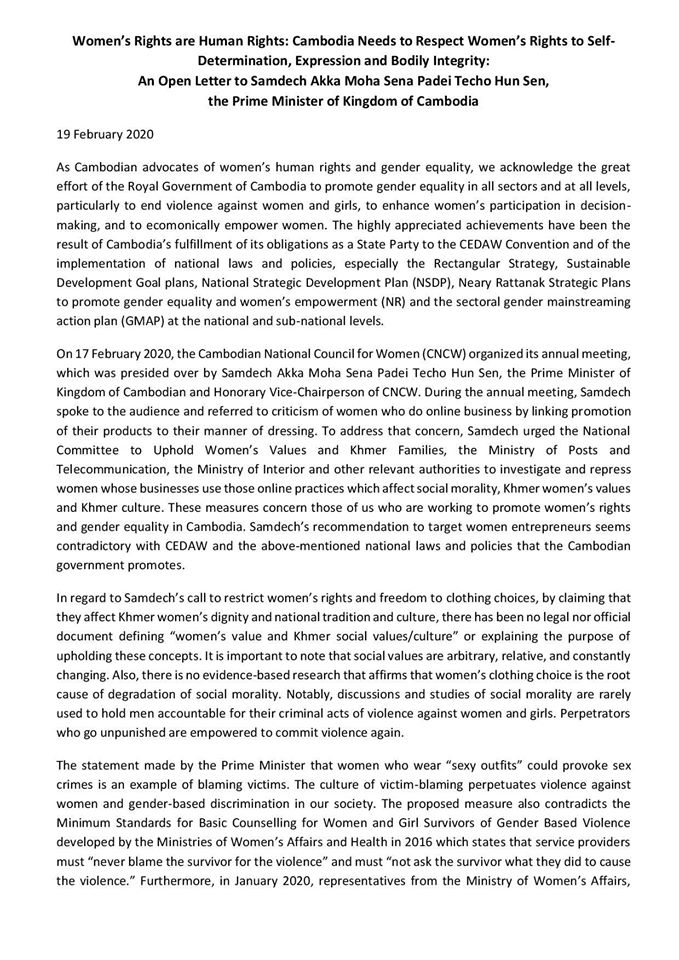 On 19 February 2020, Cambodian advocates of women's human rights issued an open letter to Prime Minister Hun Sen after hearing the criticism of women wearing sexy outfit.
During the Cambodian National Council for Women (CNCW) annual meeting on 17 February 2020, PM Hun Sen spoke to the audience and referred to criticism of women who do online business by linking promotion of their products to their manner of dressing. To address that concern, Samdech urged the National Committee to Uphold Women's Values and Khmer Families, the Ministry of Posts and Telecommunication, the Ministry of Interior and other relevant authorities to investigate and repress women whose businesses use those online practices which affect social morality, Khmer women's values and Khmer culture. These measures concern those of other women who are working to promote women's rights and gender equality in Cambodia, and his recommendation to target women entrepreneurs seems contradictory with CEDAW and the above-mentioned national laws and policies that the Cambodian government promotes.
The letter also said punishing women for their choice of clothing is therefore part of the root cause of violence, rather than its cure, and must be rejected. The women's rights group appeal to the Cambodian government to acknowledge that Cambodia Needs to Respect Women's Rights to Self-Determination, Expression and Bodily Integrity in order to achieve gender equality and end gender-based violence in Cambodia.
 Cambodian Center for Human Rights (CCHR)