Announcement: Data literacy training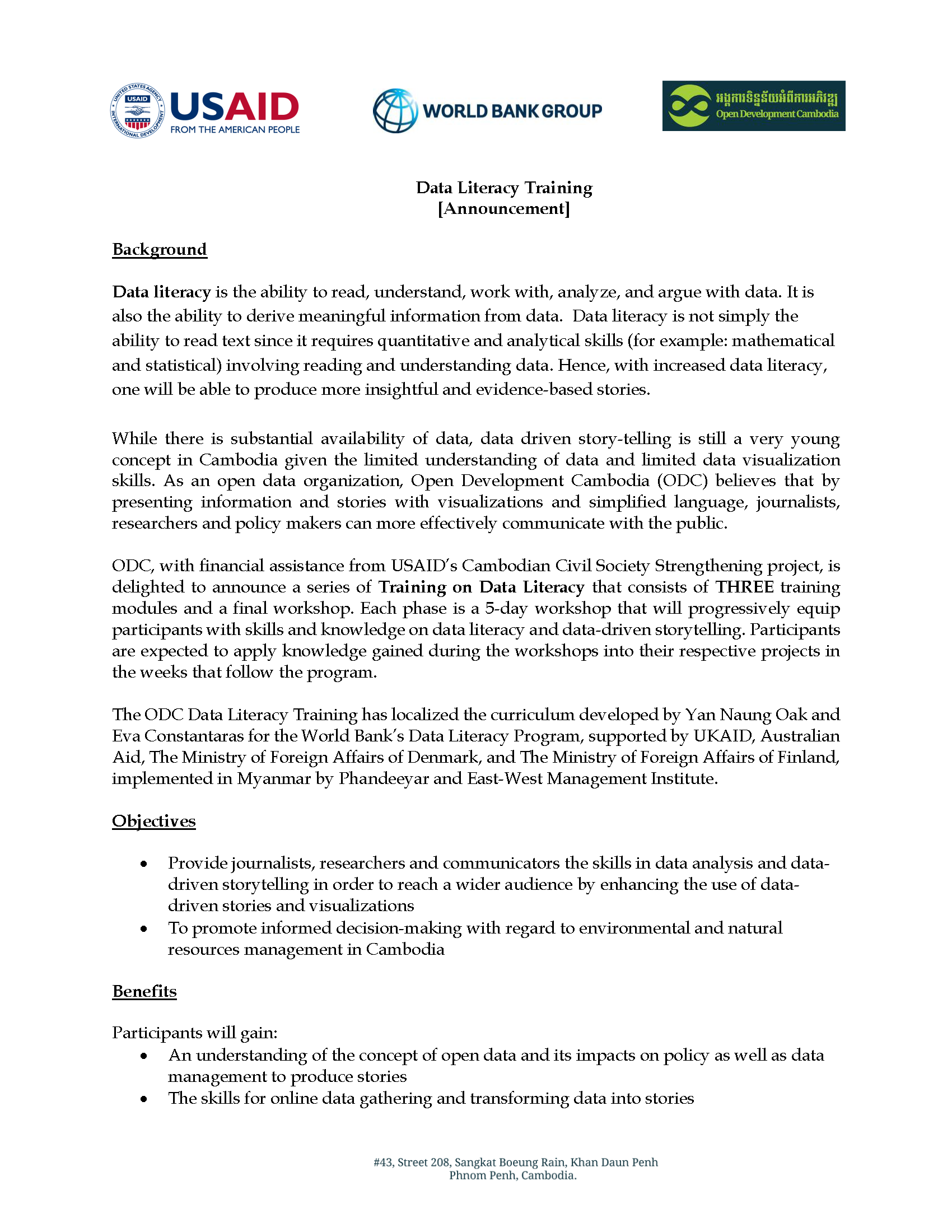 Open Development Cambodia (ODC), with financial assistance from USAID's Cambodian Civil Society Strengthening project, is delighted to announce a series of Training on Data Literacy that consists of THREE training modules and a final workshop. Each phase is a 5-day workshop that will progressively equip participants with skills and knowledge on data literacy and data-driven storytelling. Participants are expected to apply knowledge gained during the workshops into their respective projects in the weeks that follow the program.
About the training:
Date

Training outline

Number of day

Venue (Details to be confirmed)

Oct 2019 (21st to 25th)

Phase 1: From Evidence to Stories and Finding Data & Data Formats

– Module 1: From Evidence to Stories

– Module 2: Finding Data & Data Formats

5 days

Phnom Penh

Dec 2019 (2nd to 6th)

Phase 2: Understanding Data and Data visualization

– Module 3: Understanding Data

– Module 4: Data Visualization

5 days

Phnom Penh

Jan 2020 (13th to 17th)

Phase 3: Thinking Like a Data Journalist

– Module 5: Thinking Like a Data Journalist

– Module 6: Data Protection

5 days

Siem Reap

April 2020 (7 April)

Final workshop

Half day

Phnom Penh
Application deadline: 5:00 p.m., August 30, 2019
Application was closed.

Eligibility:

Be a journalist or a staff member at a media outlet, be a staff member at a local Civil Society Organization (CSO) or independent think tank;
Have at least one year of work experience,
Have a basic understanding of English language/be able to read and write in English,
Have a strong interest in data and storytelling,
Commit to participate in all training phases including the final workshop. Once selected, a letter of commitment will be signed by the management of the selected candidates' organizations and the training program management, to confirm the mutual commitment to the participants' fulfilment of all phases of the training program
Program fee: Free
We will contact you further regarding the result.
Contact:
Please download the PDF file for more details of the training program.
 Open Development Cambodia