GIS Workshop: Fundamentals of QGIS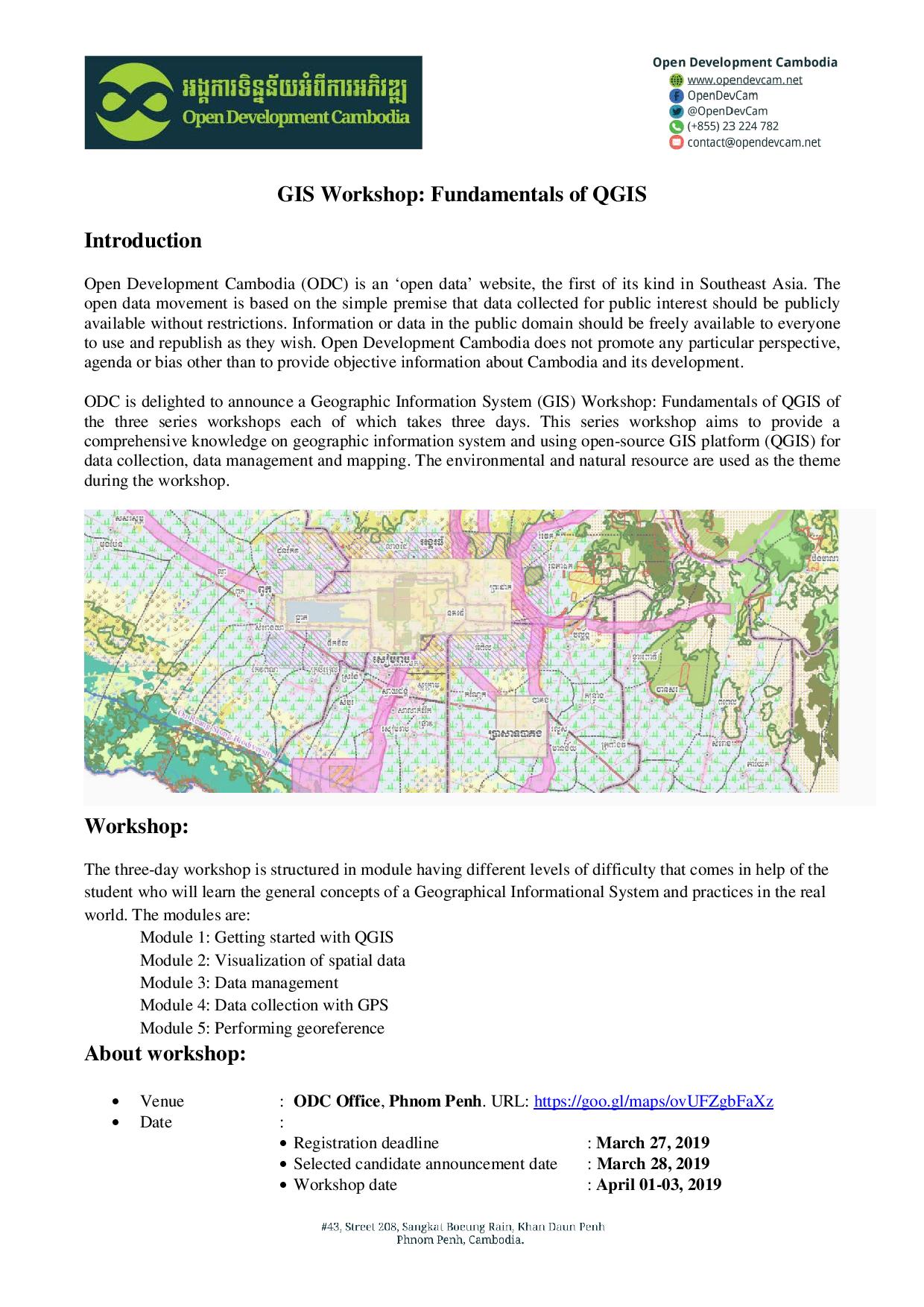 Open Development Cambodia (ODC) is delighted to announce a Geographic Information System (GIS) Workshop: Fundamentals of QGIS of the three series workshops each of which takes three days. This series workshop aims to provide a comprehensive knowledge on geographic information system and using open-source GIS platform (QGIS) for data collection, data management and mapping. The environmental and natural resource are used as the theme during the workshop.
Workshop:
The three-day workshop is structured in module having different levels of difficulty that comes in help of the student who will learn the general concepts of a Geographical Informational System and practices in the real world. The modules are:
Module 1: Getting started with QGIS
Module 2: Visualization of spatial data
Module 3: Data management
Module 4: Data collection with GPS
Module 5: Performing georeference
About workshop:
Venue : ODC Office, Phnom Penh. URL: https://goo.gl/maps/ovUFZgbFaXz
Date :

Registration deadline : March 27, 2019
Selected candidate announcement date : March 28, 2019
Workshop date : April 01-03, 2019

Contribution fee : 20 USD per person.
Benefits : Workshop materials, software, internet access, note book, certificate, snack, and lunch.
For registration : https://goo.gl/SV2owx
Workshop manual : English, Khmer
Perquisite : To gain the most from this course, participants should have a laptop, good knowledge of Windows and able to read common English word.
Contact : Phan Sovankongkea, Tel: 010 755 295, Email: training@opendevcam.net
Scholarships:
There are 10 scholarships based on competitive basis covering the contribution fee available for students from Faculty of Land Management and Land Administration at Royal University of Agriculture, Department of Natural Resource Management and Development at Royal University of Phnom Penh, Prek Leap National College of Agriculture and other universities.
Please download the PDF file for more details of the workshop.
 Open Development Cambodia