Outcomes of the participation of Prime Minister of the Kingdom of Cambodia in the 12th ASEM Summit in Brussels, 18-19 October 2018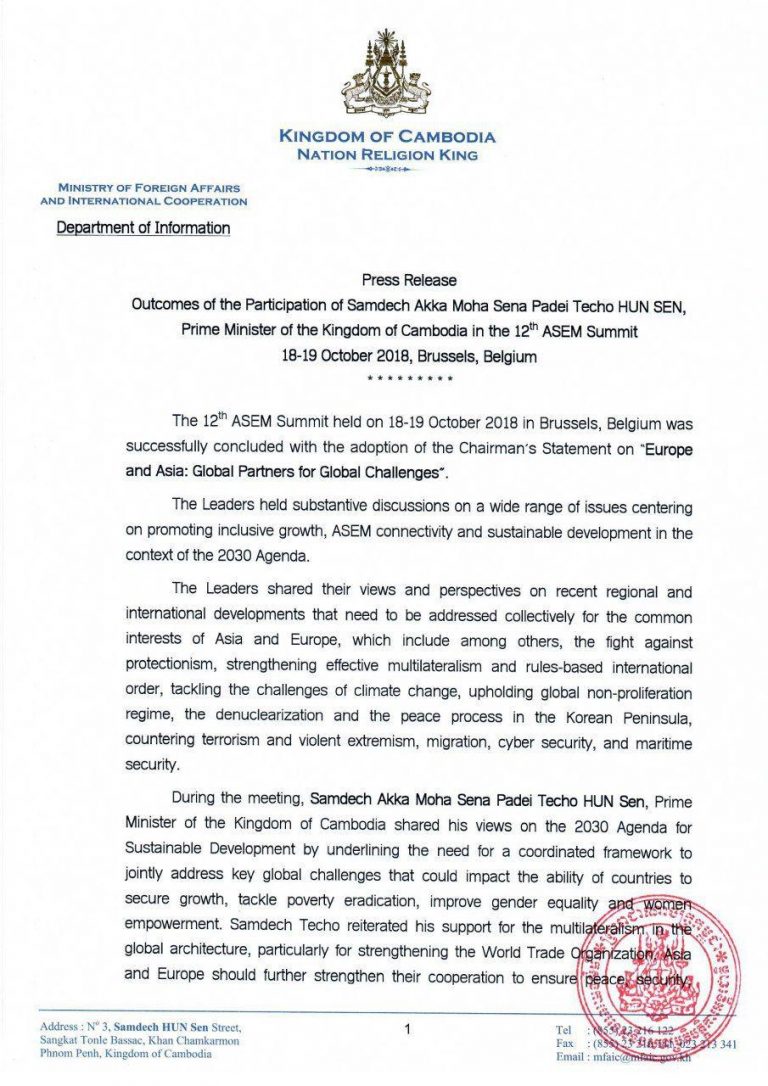 From 18-19 October 2018, the 12th ASEM Summit held in Brussels, Belgium was successfully concluded with the adoption of the Chairman's Statement on "Europe and Asia: Global Partners for Global Challenges". The leaders held substantive discussions on a wide range of issues centering on promoting inclusive growth, ASEM connectivity and sustainable development in the context of the 2030 Agenda. The leaders shared their views and perspectives on recent regional and international developments that need to be addressed collectively for the common interests of Asia and Europe, which include among others, the fight against protectionism, strengthening effective multilateralism and rules-based international order, tracking the challenges of climate change, upholding global non-proliferation regime, the denuclearization and the peace process in the Korean Peninsula, countering terrorism and violent extremism, migration, cyber security, and maritime security.
During the meeting, Prime Minister Hun Sen, shared his views on the 2030 Agenda for Sustainable Development by underlining the need for a coordinated framework to jointly address key global challenges that could impact the ability of countries to secure growth, tackle poverty eradication, improve gender equality and women empowerment. PM also added that Asia and Europe should further strengthen their cooperation to ensure peace security, development and basic human rights, which are the key issues for effectively achieving the Sustainable Development Goals (SDGs).
 Ministry of Foreign Affairs and International Cooperation