Press Release on the meeting of Minister Aun Porn Moniroth and Ellen Goldstein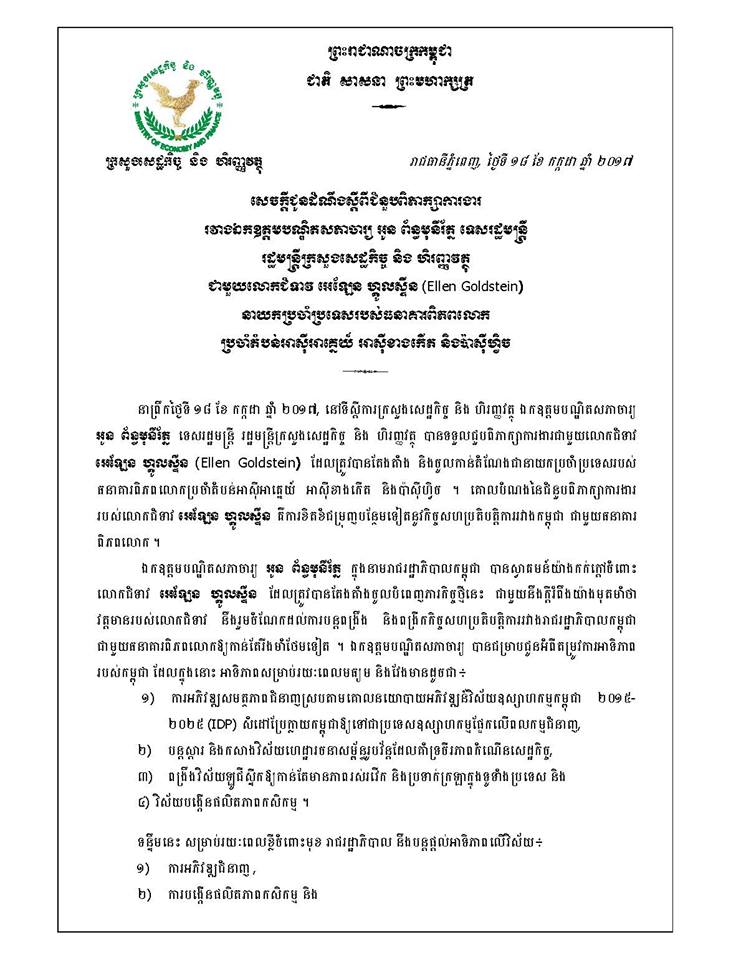 On 18 July 2017, Minister of Economy and Finance, Aun Porn Moniroth, had a meeting with Ellen Goldstein, who has been appointed as Country Director of World Bank for Myanmar, Cambodia and Lao PDR, East Asia and Pacific. The Economy Minister has informed Goldstein of Cambodia's prioritized needs such as:
For the long-term priorities:
Capacity development in line with Cambodia's Industrial Development Policy 2015-2025 (IDP) aiming to transform Cambodia into an industrial economy based on skilled labor.

Continue to improve and build physical infrastructure that is imperative for sustainable economic growth.

Strengthening the logistics sector to be more vibrant and integrated across the country.

Increasing agricultural productivity.
For the short-term priorities:
Skills development.

Creating agricultural productivity.


Promoting tourism services.
In response, Ellen Goldstein reiterated the World Bank's budgetary outlay of more than $ 540 million for the Cooperation Framework 2018-2021. She also pledged to absorb the funds and facilitate the project implementation procedures to be more simple and easier to implement.
 Ministry of Economy and Finance