Announcement on a positive case of the 2019 Novel Coronavirus (2019-nCoV) in Preah Sihanouk province and measures to prevent from the Novel Coronavirus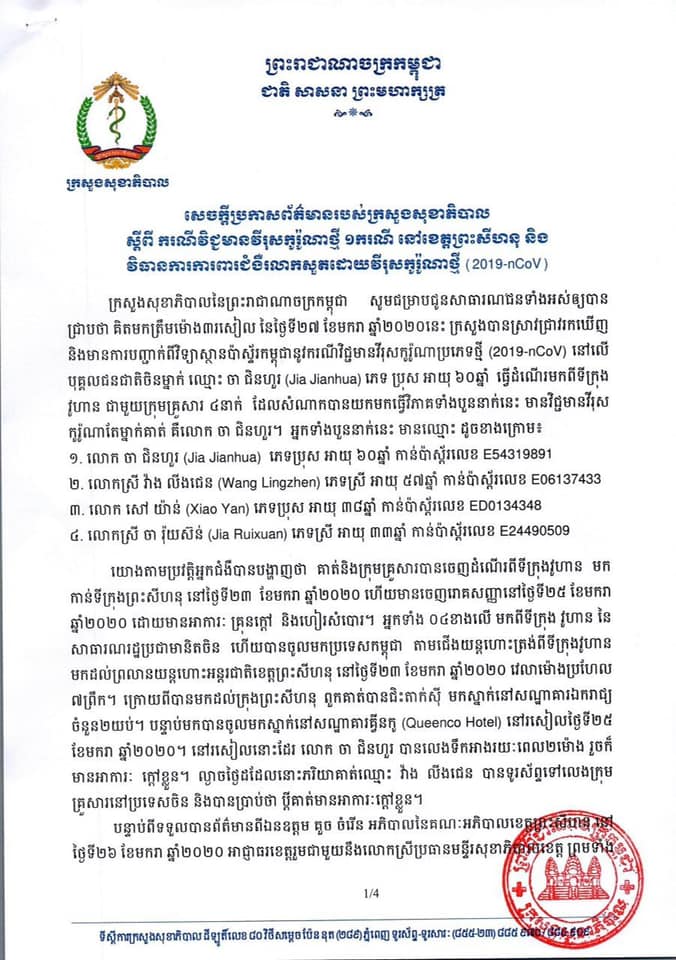 The Ministry of Health issued an announcement to the public that the ministry found a positive case of the 2019 Novel Coronavirus (2019-nCoV) at 3pm on 27 January 2020. The infection was detected by the Pasteur Institute of Cambodia on 60-year-old Chinese national Jia Jianhua, who returned from Wuhan with three family members. A working team at the Pasteur Institute of Cambodia took specimens from the noses and throats of Mr Jia and members of his family. The results confirmed specimens of Mr Jia tested positive for the Novel Coronavirus. Mr Jia is now quarantined at the provincial referral hospital and health officials are monitoring him. He and his family have been placed under quarantine. The authorities are now on the lookout for individuals that may have come into contact with Jia to test them for the virus. They will also disinfect places where the family stayed to eliminate any trace of it. This positive case was reported to the Embassy of the People's Republic of China in the Kingdom of Cambodia.
The ministry reminded all citizens to be vigilant on preventing the spread of the Novel Coronavirus by taking the following measures:
Avoid close contact with people with acute respiratory illness or suspicious patients,
Wash hands often (with soap and clean water), especially after contacting with the patient or surrounding environment,
Avoid close contact or go to markets or farms where live animals or wildlife are known to have a virus,
Adhere to good hygiene and food safety practices, such as well-cooked foods, especially meat and eggs,
A person with acute respiratory syndrome must cover his/her mouth and nose with a scarf or a tissue when coughing or sneezing ,
Adhere to good hand hygiene and respiratory hygiene (cover the mouth and nose when coughing or sneezing, wash the hands after contacting with respiratory mucus and keep more than 1 meter away from individuals with acute respiratory syndrome),
Medical staffs who provide health care to patients must thoroughly and accurately adhere to preventive measures in health facilities and medical techniques to avoid infection to individuals,
If you suspect to be infected with the Novel Coronavirus with an excess fever of 38 degrees Celsius combination with at least one of the symptoms such as cough, runny nose, sore throat, shortness of breath, difficulty breathing and travelling from China, dealing with patients with respiratory problems, touching ill animal during the 14 days prior to the incubation period of the virus, or had been in contact with the death from acute respiratory (unidentified virus types), you must immediately report to 115.
 Ministry of Health