Press release on the progress of digital policies and regulations in the digital sector in Cambodia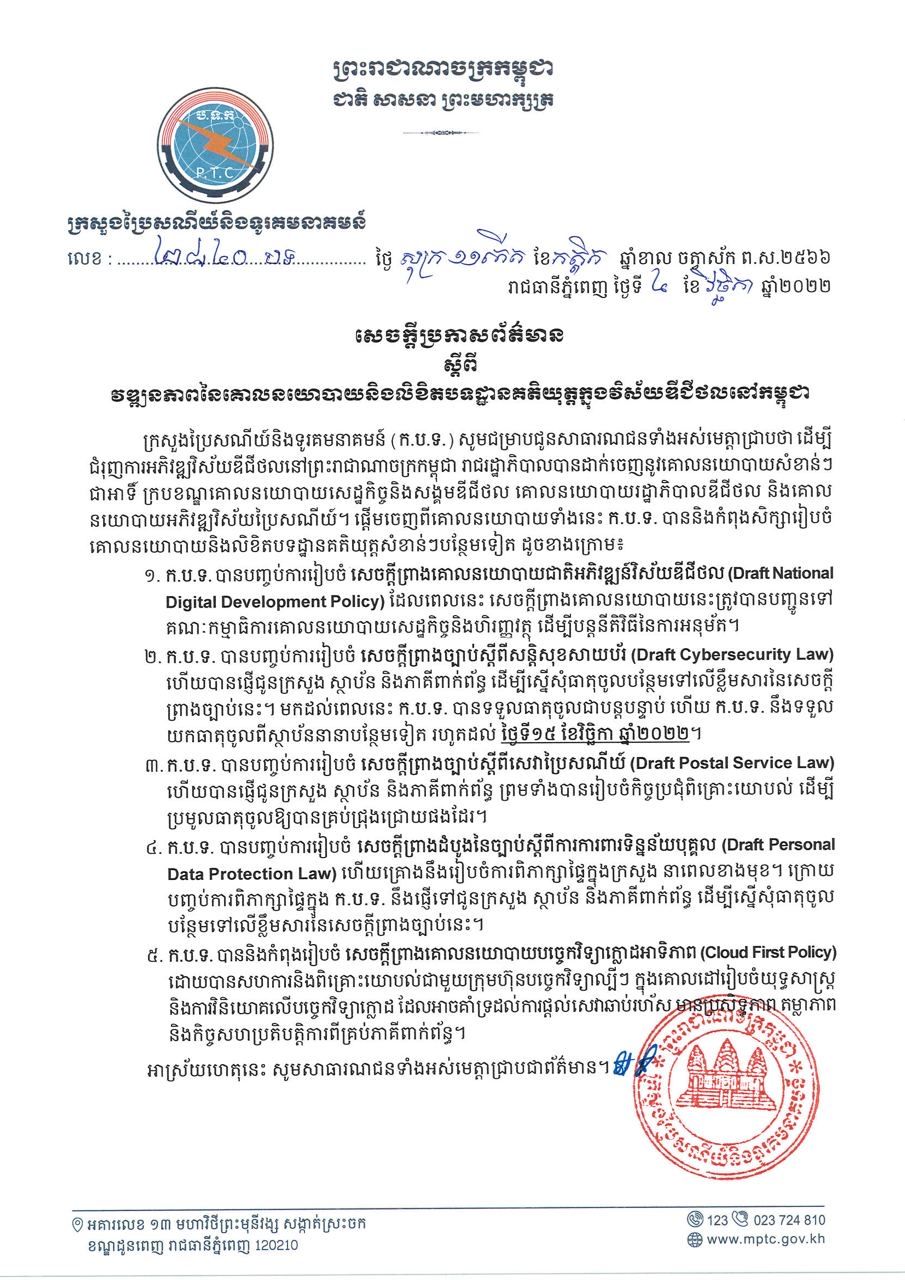 On 4 November 2022, the Ministry of Post and Telecommunication of Cambodia (MPTC) released a public announcement on the Progress of Digital Policies and Regulations in the Digital Sector in Cambodia.
To promote the digital sector's development in Cambodia, the Royal Government has set out key policies, such as the Digital Economic and Social Policy Framework, the Digital Government Policy, and the Postal Sector Development Policy.​ Starting from these policies, MPTC has been studying the preparation of additional crucial policies and regulations as follows:
The MPTC has completed the preparation of the Draft National Digital Development Policy and submitted it to the Economic and Financial Policy Committee for further approval.
The MPTC has completed the preparation of the Draft Cybersecurity Law and is continuing to request additional input from institutions until 15 November 2022.
The MPTC has completed the preparation of the Draft Postal Service Law and sent it to the relevant ministries, institutions, and stakeholders, as well as organized a consultation meeting to gather all the inputs.
The MPTC has completed preparing the first draft of the Draft Personal Data Protection Law and plans to hold internal discussions within the ministry soon.
The MPTC has been preparing a draft Cloud First Policy in collaboration with well-known technology companies to develop strategies and investments in cloud technology that can support fast and efficient​ service, transparency, and cooperation from all stakeholders.
 Ministry of Post and Telecommunication of Cambodia (MPTC)