The Royal Government of Cambodia extends the enforcement of temporary entry restrictions into Cambodia for foreigners until further notice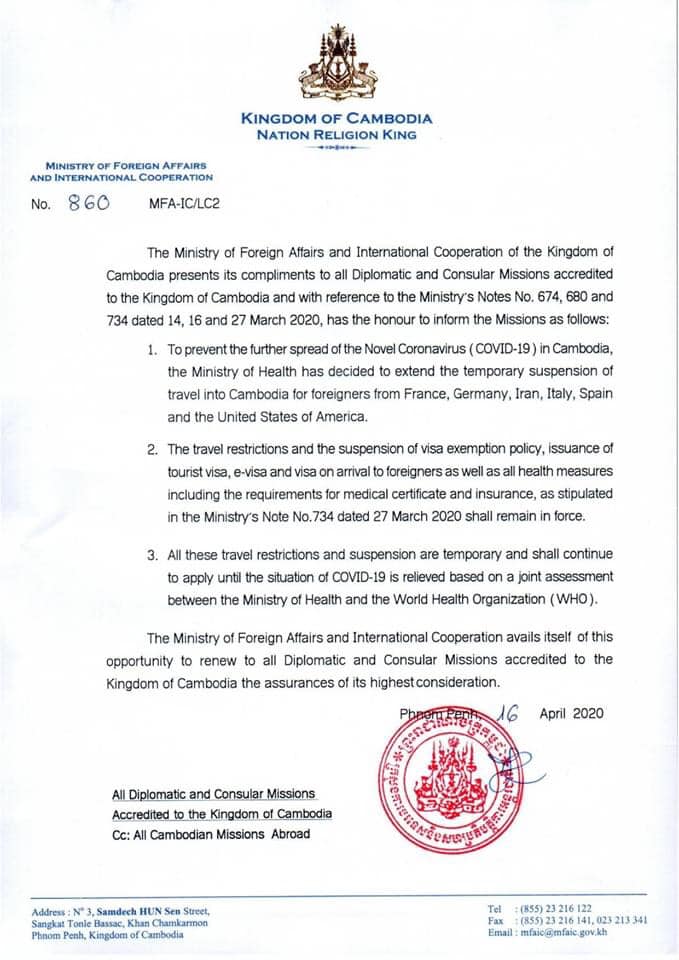 On 16 April 2020, the Ministry of Foreign Affairs and International Cooperation of the Kingdom of Cambodia presents its compliments to all Diplomatic and Consular Missions accredited to the Kingdom of Cambodia has the honour to inform the Missions as follows:
To prevent the further spread of the Novel Coronavirus (COVID-19) in Cambodia, the Ministry of Health has decided to extend the temporary suspension of travel into Cambodia for foreigners from France, Germany, Iran, Italy, Spain and the United States of America.
The travel restrictions and the suspension of visa exemption policy, issuance of tourist visa, e visa and visa on arrival to foreigners as well as all health measures including the requirements for medical certificate and insurance, as stipulated in the Ministry's Note No.734 dated 27 March 2020 shall remain in force.
All these travel restrictions and suspension are temporary and shall continue to apply until the situation of COVID-19 is relieved based on a joint assessment between the Ministry of Health and the World Health Organization (WHO).
 Ministry of Foreign Affairs and International Cooperation