Almost two-thirds of Cambodia's population depend on agriculture, forest products and fisheries for their livelihoods,1 so calculating the impact that any new development may have on the environment is important.
In the Constitution of Cambodia, the state has the responsibility to protect the environment and natural resources and establish a precise management plan for developing land, water, air, wind, geology, the ecological system, mines, energy, petrol and gas, rocks and sand, gems, forests and forestry products, wildlife, fish and aquatic resources.2 However, over the past two decades, Cambodia's natural resources have faced different threats such as illegal logging, illegal and over-fishing, biodiversity depletion, and so on.
The Cambodian Government recognizes the importance of the country's natural resources. Cambodia's Rectangular Strategy – Phase III states that "the Royal Government of the Fifth Legislature will reinforce and broaden the management of natural resources to strike a balance between development and conservation, in particular, increase the contribution of natural resources to the development of the agriculture sector by ensuring:
green cover, forest and wildlife conservation
the sustainability of fisheries resources
the sustainability of the ecosystem, so that the quality of land and sustainability of water sources could be improved by focusing on the protection of biodiversity, wetlands and coastal areas."3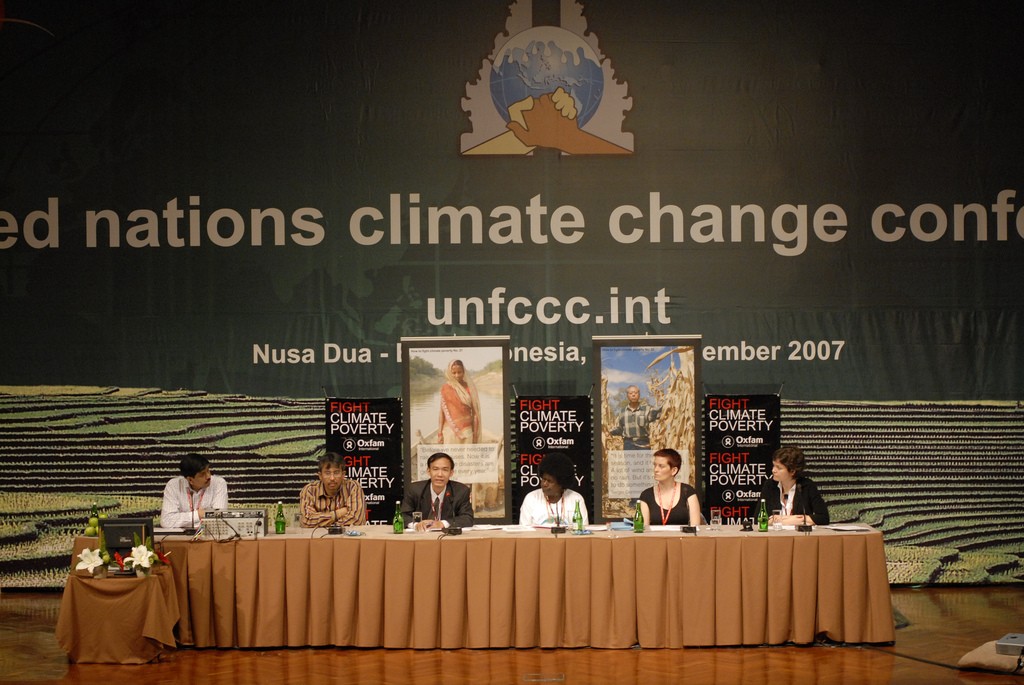 Oxfam's press conference on Financing Adaptation. Photo by Ng Swan Ti/Oxfam, taken on 4 December 2007. Licensed under CC BY-NC-ND 2.0.
Key policies, legal framework and institutions
Cambodia's main national development documents for governing environment and natural resources are:
Rectangular Strategy Phase III
More details can be found in the overview of the legal framework and policy page.
In Cambodia, the main legislation regarding environmental protection and natural resource management is the 1996 Law on Environmental Protection and Natural Resources Management ("Environment Law"). Chapter III of the Environment Law requires that an environmental impact assessment (EIA) be conducted for projects likely to have an impact on the environment, whether they are public or privately funded.4 Click here for more details on the environmental impact assessment (EIA) in Cambodia.
A new Environmental and Natural Resources Code of Cambodia is being developed – by March 2018, a 10th draft was available for feedback.5 The draft Code includes general principles, environmental impact assessment, strategic environmental assessment, and biodiversity and protection of endangered species. It establishes biodiversity conservation corridors to provide linkages and protection for high-conservation areas. It also addresses protection of cultural heritage, public participation and access to information, a collaborative management process and dispute resolution procedures.
The legal framework for managing forestry and fisheries are provided in the 2002 Forestry Law and 2006 Fisheries Law. The rights of communities to protect and manage forests and fisheries are recognized in Sub-Decree on Community Forestry Management and Sub-Decree on Community Fisheries Management respectively.
Cambodia first defined its protected areas in a 1993 royal decree, and has since issued more detailed guidelines on how the country's protected areas must be managed in the form of the 2008 Protected Areas Law. The 2008 Protected Areas Law also provides a legal framework for managing the community protected areas.
Under the Protected Areas Law, the Ministry of Environment (MoE) is responsible for managing Cambodia's protected areas,6 while the Ministry of Agriculture, Forestry and Fisheries has jurisdiction on protected forest and fish sanctuaries.
In 1999, Cambodia joined the Ramsar Convention, under which the Kingdom commits to the use of wetlands and water resources in a sustainable manner. To date, Cambodia has five Ramsar sites totalling 85,235 hectares – Stung Treng, Boeung Chhamar, Koh Kapik, Prek Toal and Stung Sen – which are designated as globally important sites.7 See more on the types of state-protected area and protected areas pages.
The MoE is the main ministry responsible for implementing the Environment Law and associated regulations.8 Among its roles, the MoE is responsible for developing national and regional environmental management plans in order to identify key environmental challenges and the means to address them.9 Before issuing any decision or undertaking any activities related to the preservation, development, management or use of natural resources, concerned ministries must consult with the MoE.10
As environment and natural resources management are a cross-sectoral issue, the other institutions also play a role in environmental protection. More details can be found on the relevant ministries page.
The government is currently drafting a Coastal Master Plan covering popular tourist beaches in Preah Sihanouk province. The aim is to enhance environmental protection and make the coastline attractive, clean and accessible for tourists. A strip 50 meters above the sea will be set aside for public use.11
Last updated: 24 November 2018
Related to environment and natural resources policy and administration