Firewood and charcoal remain key sources of energy for household cooking and for small food businesses.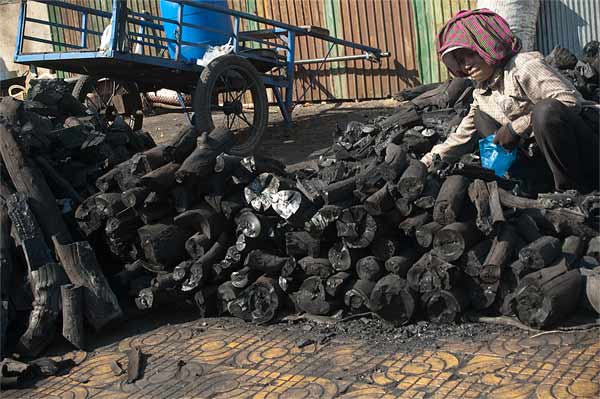 Woman sorting charcoal in Phnom Penh. Photo by Kelly Irving, taken on 25 February 2010. Licensed under CC BY-ND 2.0.
The cooking fuels used in Cambodia have changed greatly in the last decade.
The National Census 2008 showed that 91 percent of Cambodian households used biomass as their main cooking fuel, with 84 percent using firewood and 7 percent using charcoal.1
World Bank research shows that by 2018, the numbers had fallen to 66.7 percent using a biomass stove as their primary stove, with 62 percent using firewood and 5 percent using charcoal.2
Households using a clean fuel stove (most often LPG) as their primary stove rose from 9 percent in 2007 to 24.8 percent in 2014 to 32.9 percent in 2017. The figure is 77.1 percent for urban households. Two-thirds of households that use a clean fuel stove as their primary stove use it in combination with a biomass stove.
The use of LPG to cook is strongly ties to household wealth: 49.7 percent of households in the top spending quintile use clean fuel stoves, compared with 18.3 percent of households in the bottom quintile.3
The change from older to more modern cooking styles can have a huge impact on the workload of the household members doing the cooking. The World Bank research shows that switching to an improved cookstove can save an average 4.7 hours a week in fuel collection and 24.3 minutes preparing to cook a meal.4
Last updated: 30 October 2018
Related to cooking fuel