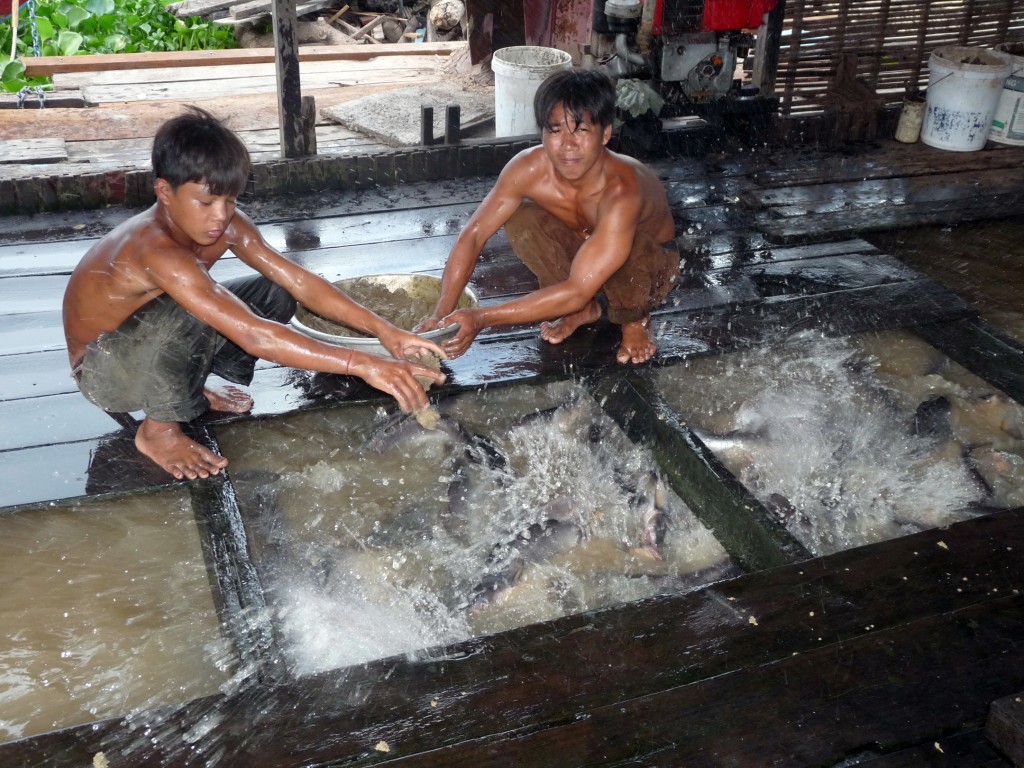 Fish farmers operating cage culture, Cambodia. Photo by O. Joffre/WorldFish, taken on 3 October 2009. Licensed under CC BY-NC-ND 2.0.
Aquaculture production has grown significantly. In 2012 it stood at 74,000 tonnes, or almost 11 percent of total fishery production. By 2016 it had grown to 172,500 tonnes, almost 22 percent of total production.1 Freshwater aquaculture systems include cages and pens, intensive ponds, extensive homeland ponds, community fish refuge (CFR) ponds and integrated rice-fish farms. A CFR is a form of stock enhancement or a fish conservation measure that is intended to improve the productivity of rice field fisheries by creating dry season refuges for brood fish in seasonally inundated rice fields.2
In coastal areas, aquaculture systems include fish and shrimp farms.3 There are also 825 community fish refuge ponds.
Cambodia still cannot export crocodile skins to international markets because its farms have not yet been able to fulfill industry standards. Currently, 16 farms have applied for a CITES (Convention on International Trade in Endangered Species of Wild Fauna and Flora) license, while only six have so far obtained approval to export skins.4
Having obtained a CITES license, in 2015 Cambodia reached a landmark deal to export 1,000 crocodile skins to France, where buyers want grade C skins, a standard which is not so hard to meet.5 Cambodia currently exports crocodile skins to the European Union. Also, it exports crocodile skins and meat to Vietnam, Thailand and China.
In 2014, a Japanese 'third water' technique was introduced in Cambodia whereby artificial river and sea water is created through blending fresh water with a mix of minerals, including salts of sodium, potassium and calcium. The project, in the mountainous province of Takeo, is led by the Japan International Cooperation Agency (JICA). Roughly 30,000 giant river prawns, which sell for eight times the price of fish in Cambodia, are to be reared at each of three farms.6
Last updated: 30 September 2015
Related to fish farming and aquaculture