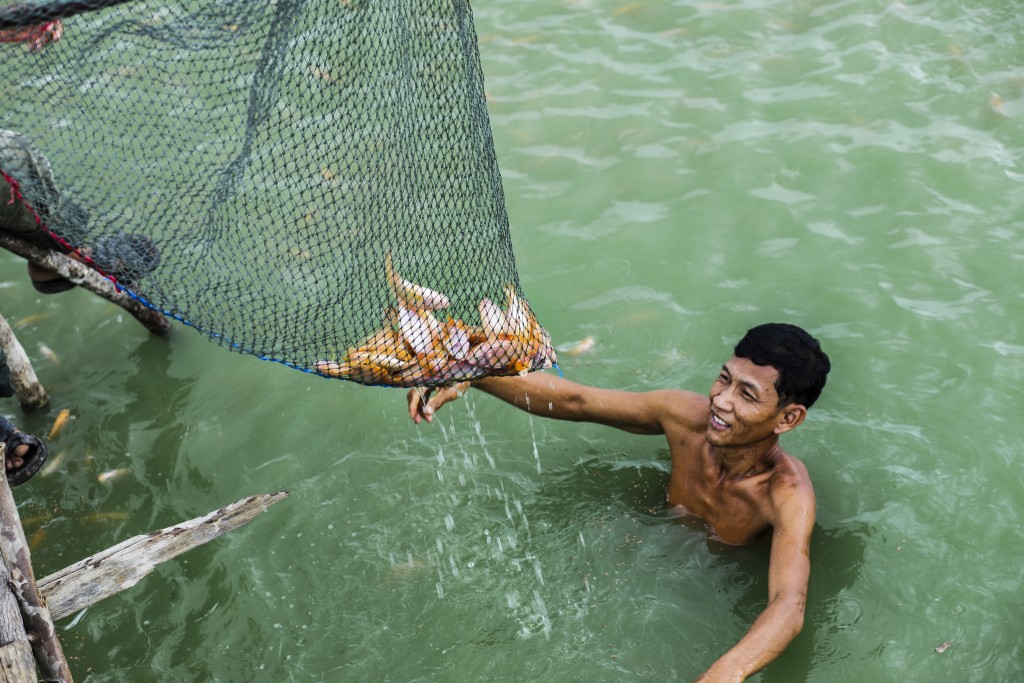 Cambodian fish farmer checking on fish quality. Photo by U.S. Agency for International Development (USAID), taken on 16 October 2012. Licensed under CC BY-NC-ND 2.0.
Cambodia's inland capture fisheries are among the largest in the world. The fishing industry encompasses subsistence, commercial and recreational fishing, as well as the harvesting, processing and marketing sectors.
Fisheries and aquaculture play a vital role in the country's economy and make an important contribution to food and nutrition security. The Tonle Sap Lake and Tonle Sap River are considered the world's most productive inland fisheries, providing about 75 percent of Cambodia's annual inland fish catch and 60 percent of its populations' protein intake.1 The Mekong River Commission says that fisheries account for 18% of Cambodia's GDP and contribute more to the country's economy than rice production.2 There are an estimated 1,148 fish species in the Mekong Basin.3
Cambodia's coastal waters are also productive and rich in fisheries resources. The coastal area stretches for 435 km across the four provinces of Koh Kong, Preah Sihanouk, Kampot and Kep. Marine fisheries are mainly exploited by small and medium-scale local fishers; large-scale fishing is dominated by foreign companies.4
The 2017 Annual Report from the Ministry of Agriculture, Forestry and Fisheries (MAFF) quoted total 2016 production of 802,450 tonnes – 509,350 tonnes from freshwater fisheries, 120,600 from marine capture and 172,500 tonnes from aquaculture.5
Inland capture production has remained roughly level – it stood at 509,000 in 2012, very close to the 2016 figure – but aquaculture production has grown enormously, more than doubling from 74,000 tonnes in 2012.6
Steps are being taken to make Cambodia's fisheries more sustainable. In August 2017, for example, the government announced that provincial departments of agriculture would be given more powers to crackdown on fishing offences. An outright ban will be imposed on three-centimetre fishing nets to reduce the catch of immature fish and the use of fishing devices longer than 300 metres will be banned. People will be required to apply for a licence to use fishing machinery.7
Emerging trends
In 2014 the European Commission officially banned all fish imports from Cambodia to the European Union (EU) after foreign fishing vessels bearing the Cambodian flag were caught fishing illegally in international waters. However, according to the Fisheries Administration, apart from damaging Cambodia's reputation, the ban will not affect fish imports as Cambodia does not supply EU fish markets due to non-compliance with HACCP (hazard analysis and critical control points) inspection systems.8 Fish is mainly exported to Thailand, Vietnam, Malaysia, Singapore, China, Japan, South Korea, the United States, Australia and Russia.9
Multiple private fishing companies exist in Cambodia. Kampuchea Fish Import and Export Company, a state-owned enterprise and the largest fishing firm, has the sole rights to export fish.10
The total value of reported fisheries exports is extremely low and fluctuates wildly. In 2015 it was $1.03 million11 but in 2016 fell to $565, 284.12 The Fishery Administration reported that higher domestic demand for fresh fish meant there was less to export.
Farmed fish from neighboring countries is imported into Cambodia.13
Illegal fishing
MAFF reported investigating 1,653 cases of illegal fishing in the first half of 2017, up 27 percent compared to the same period in 2016. Just 100 of the cases involved sea fishing, while 1553 were on rivers. Over 704,430 metres of illegal fishing nets and 274 banned tools were destroyed and about $40,000 in fines were issued.14
The threat to fish production from hydro dams
A large study by the Mekong River Commission ('the Council study') found a large potential impact on the Kingdom's food security from dam development.15 Modelling work that assumed all the planned Mekong River system dams went ahead predicted a fall in fish production of up to 70 percent across the Mekong basin. For Cambodia, annual GDP losses of $3–5 billion were projected in scenarios going out to 2040.16 A secretary of state at the Ministry of Agriculture, Forestry and Fisheries, Nao Thuok, was reported as saying that the government is already assuming a 16 to 30 percent drop in fish biomass.
Last updated: 21 December 2018
Related to fishing, fisheries and aquaculture