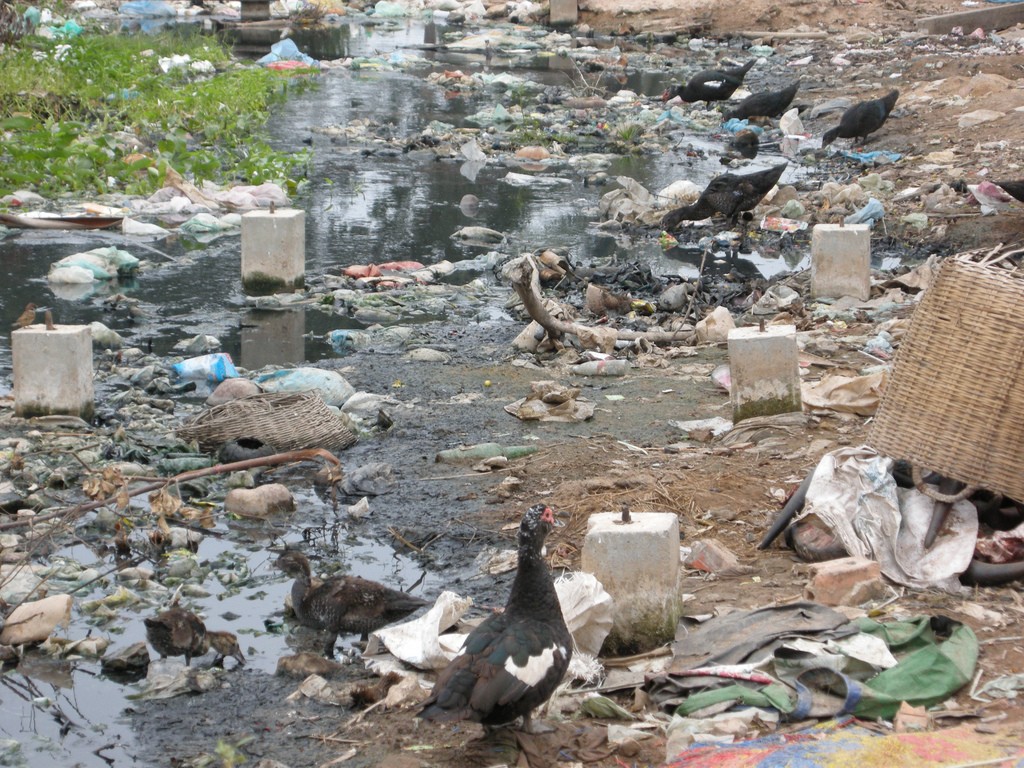 Foul fowls, Siem Reap Province, Cambodia. Photo by David Villa, taken on 3 January 2008. Licensed under CC BY NC-ND 2.0.
The rapid economic and population growth in Cambodia is leading to significant environmental pollution. Economic development activities have generated major environmental consequences, including air pollution, water pollution, noise pollution and solid wastes. Environmentalists have identified four main industrial activities that significantly contribute to environmental pollution: garment factories, brick kilns, rice milling and rubber processing.1
According to the Environmental Performance Index for 2018 (produced by researchers at Yale and Columbia Universities and the World Economic Forum) Cambodia ranked relatively poorly, at 150 out of 180 countries.2 Thailand was in 121st place, Vietnam 132nd, Myanmar 138th and Laos 153rd.
Water pollution directly affects the environment and both directly and indirectly affects humans and animals. Access to safe and sustainably-sourced water remains a challenge, particularly for rural households. Polluted rivers are a main source of daily water for many people as access to water facilities and infrastructure is limited outside the main cities. Water contaminated or polluted by mining and other industrial activities leads to dangers to human health.3
In Cambodia, as with other developing countries, another environmental issue is solid waste management and disposal. Waste generation is directly associated with population growth which leads to concerns for the environment and human health. Given the lack of proper waste management practices and limited public awareness, it remains one of the urban greatest environmental pressures.4
The ACRA Foundation has estimated that in Phnom Penh each person uses around 2,000 plastic bags each year, a figure far higher than in European countries.5 In April 2018, the Government acted to reduce this by requiring supermarkets and general stores to charge customers 10 cents for each plastic carry bag.
The Ministry of Environment (MOE) was created in 1993 and is responsible for overseeing environmental impact assessment, environmental planning, natural resources management and conservation, environmental legislation, environmental education, and so on.6 This body's establishment was the first significant step taken toward environmental management in Cambodia. Following this, the 1996 Law on the Environmental Protection and Natural Resources Management created the basis of standard setting for air pollution.7 The management of pollution and waste is governed by the Sub-Decree on the Environmental Impacts Assessment (1999), Sub-Decree on Solid Waste Management (1999), Sub-Decree on the Control on Air and Noise Pollution (2000) and Sub-Decree on Water Pollution Control (1999).
The Ministry has developed the National Green Growth Roadmap in order to integrate the concept of green growth into national strategic development.8 In 2013, the Royal Government of Cambodia adopted the national policy and strategic plan for green growth in 2013-2030, aiming to promote and develop a green economy through environmental sustainability, green jobs, green technologies, green finance, green credit and green investment.9
In November 2015, a new sub-decree on waste management was introduced. Business, enterprises and citizens can be fined between 10,000 and 200,000 riel (about $2.50 to $50) if they are found dumping or burning rubbish in the public and not following the guidelines on separating waste.10
Phnom Penh Capital Hall (PPCH), is developing a waste management strategy for the city to cover the years 2018–2035.11 The strategy covers all waste streams (solid, liquid and gaseous) with a particular focus on solid waste. Research done on the city's waste systems found that "Despite great efforts by the municipality to improve the waste collection, collection services are only provided intermittently and are inadequate to cover the entire urban area of the city."12
In 2002, a 49-year exclusive agreement was signed between the Municipality and CINTRI for the company to provide garbage collection services for Phnom Penh. Residents, businesses etc. pay for the service through a charge included in their electricity bills.
Last updated: 29 November 2018
Related to pollution and waste