As Cambodia emerged from years of conflict, pressures grew on natural resources and sensitive areas. In response, a number of protected areas were created by royal decree in 1993 to protect ecologically and culturally important places. More detailed guidelines on managing the country's protected areas came in the 2008 Protected Areas Law.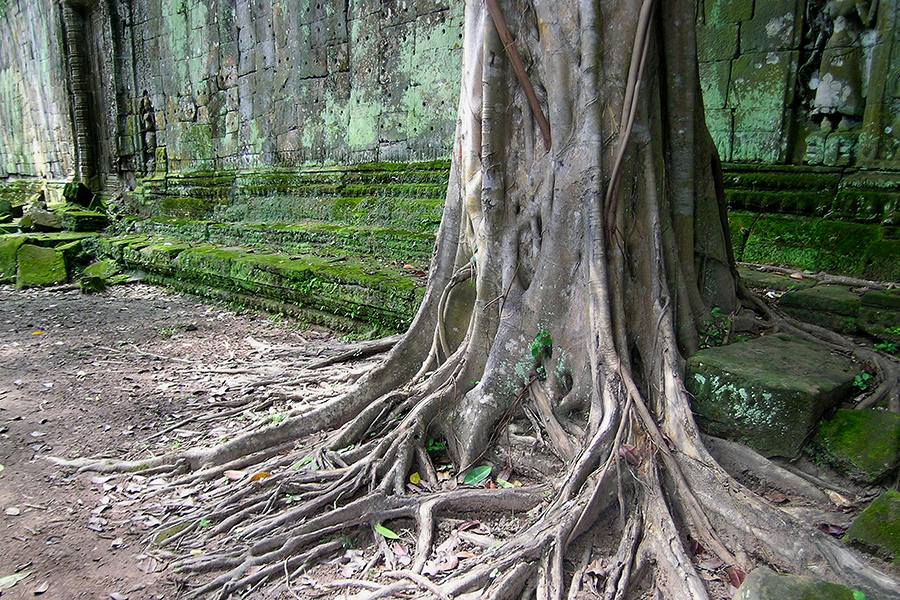 Ta Prom temple. Photo by Drriss & Marrionn, taken on 1 October 2008. Licensed under CC BY-NC-SA 2.0.
A natural protected area is a defined space given extra protection to support long-term conservation of wildlife, nature, ecosystems and cultures. The International Union for the Conservation of Nature (IUCN) developed the Protected Area Management Categories System, which covers almost 12 percent of the world's land surface.1
The 1993 Royal Decree on the Protection of Natural Areas recognized 23 protected areas,2 with classification of the natural protected areas into four categories depending on the character of each area and the objectives of its protection and preservation. At the time, these areas covered over 18 percent of Cambodia's land area.3
While some existing areas have been resized, additional natural protected areas under a new category, 'Ramsar' sites, were established in 1999 after Cambodia became a member to the Convention on Wetlands of International Importance, the so-called Ramsar Convention.4 Under this international legal framework, Cambodia's Ramsar sites have the highest protection at the international level.5
The 2008 Protected Areas Law
In 2008 the Law on Natural Protected Areas introduced an additional three categories to natural protected areas, bringing the total number of categories to eight. While the character and protection purposes of each category are defined in the law, four styles of zones management may also be applied when deemed necessary.
The eight categories of natural protected areas (with their purpose) are:
national park
wildlife sanctuary – wildlife preservation and protection
protected landscape – protected scenic view areas to be maintained as scenic spots for leisure and tourism
multi-purpose-use management area – accessible areas for economic development and leisure activities with the assurance of natural stability of water, forestry, wildlife and fishery resources
biosphere reserve – an area of biodiversity conservation and support of sustainable development and activities. This reserve, Tonle Sap, is close to Battambang and Kampong Thom provinces. Its inclusion as a special entity in the law demonstrates its importance for Cambodia
natural heritage site – natural or semi-natural sites unique in ecosystem, beauty or cultural value
marine park – coastal areas with plants, wildlife and fish, with historical or cultural value
Ramsar site – areas recognized for the importance of their wetlands and surrounding environment, including wildlife, habitats and ecosystems. It is estimated that 30 percent of Cambodia's surface may be considered as wetland, and other areas may be brought under the Ramsar convention in future.
Management zones
The four management zones6 of the natural protected areas are:
Core zone: areas of high conservation value containing threatened and critically endangered species and fragile ecosystems. Access to core zones is prohibited except for Nature Conservation and Protection Administration officials and researchers. NCPA can grant access to officials and researchers with prior permission from the MoE. (National security and defence sector staff have their own right of access.) Using natural resources from the core zone is strictly forbidden. Swidden agriculture (sometimes called slash-and-burn agriculture) is forbidden.
Conservation zone: areas of high conservation value containing natural resources, ecosystems, watershed areas, and natural landscapes located adjacent to the core zone. Access to the zone is allowed only with prior consent of the Nature Conservation and Protection Administration. (National security and defence sector staff have their own right of access.) Small-scale community uses of non-timber forest products (NTFPs) to support local people's livelihood may be allowed under strict control, provided that they do not seriously impact biodiversity. Other than this, using natural resources from this zone is forbidden. Swidden agriculture is forbidden.
Sustainable use zone: areas of high economic value for national economic development and management, and conservation of the protected area itself. Unlike the core and conservation zones, it is possible to build infrastructure, under restrictions and authorizations from the MoE. The government may permit local authorities/communities to develop and invest in the zone in accordance with MoE requirements. Using natural resource can be allowed if the areas are designated as community protected areas. The MoE can allocate parts of the zone to communities as community protected areas.
Community zone: areas reserved for the socio-economic development of the local communities and indigenous ethnic minorities. May contain residential lands, paddy fields, gardens or swidden. Land title requires agreement from the MoE.
By late 2017, Cambodia had almost 50 protected areas. These covered more than 7.5 million hectares – the equivalent of 41 percent of the country's total land.7 In October 2017 it was reported that the environment ministry was preparing to recommend a further six areas for protection.8
Even though some protected areas are classified under the same category, the level of protection and preservation may vary. A clear definition of the category and zone management of each protected area is necessary for the effective implementation of the law.
Biodiversity conservation corridors
In early 2017 the government announced a new sub-decree that protects almost 1.5 million hectares as "Biodiversity Conservation Corridors".9 The new corridors connect existing protected areas, allowing species migration. They are found in Keo Seima and Snuol districts, the Phnom Proek forest, along the Phnom Kravanh mountains in Pursat and Koh Kong province, and in the Prey Lang and Kulen Prum Tep forests.
Ministry of Environment spokesperson Sao Sopheap said that including the new corridors, the protected areas in Cambodia total more than 7 million hectares.10 This means that around 40 percent of the country's land area falls under the responsibility of the Ministry of Environment.
The Ministry of Environment (MoE) is responsible for managing and supervising the country's protected areas in cooperation with other institutions. The Law on Environmental Protection and Natural Resource Management gives the MoE authority to enter and inspect protected areas if activities in the areas are thought to be affecting the environment.11 The sub-decree elaborates on the responsibilities of the ministry to prepare and implement policies and management plans for the protected areas, and to propose new areas to be protected. The MoE is responsible for finalizing maps for each protected area.12
The Law on Natural Protected Areas aims to "ensure the management, conservation of biodiversity, and sustainable use of natural resources in protected areas." The law reinforces the MoE's rights and duties to:
patrol and crack down on illegal activities
inspect licenses and permits for development and economic activities in protected areas
conduct awareness raising and education to engage the public in the management of protected areas.13
Development within protected areas
No clearance or building is allowed in the core or conservation zones, and development within the sustainable use or community zones requires government approval. Any development in these areas or in adjacent areas is subject to an environmental and social impact assessment.14
Since the Protected Areas Law was passed in 2008, numerous sub-decrees have been passed classifying areas as sustainable use zones. According to the law, after consulting with relevant ministries and institutions, local authorities, and local communities the government may permit development and investment activities in these zones. These activities can include infrastructure development, including irrigation and hydroelectricity projects, mining and resin exploitation.15Anyone breaching the law faces penalties ranging from a warning and payment of restorative damages, up to fines of 250 million riel (approx. US$62,700 ) and 10 years in jail.16
Yet, according to the royal decree and sub-decrees, most of the natural protected areas do not have zone management and, if they do, no geographical information is provided. This means that any economic land concessions that are located in the protected areas cannot be monitored to see whether activities take place in a zone management of high protection or not (see Natural Protected Areas map layer, and other map layers of concessions).
Cambodia's protected areas attract tourists and contain a wealth of resources which, if exploited sustainably, could provide employment and income and contribute to Cambodia's development. If the law is effectively implemented, the protected areas system could protect sensitive areas through limiting and controlling development while ensuring that the needs of both economic and social development and environmental protection are balanced.
Deforestation and forest crime in protected areas
The reality is that deforestation is happening in many protected areas. The American-based environmental protection group Forest Trends reported in 2015 that, of 272 land concessions granted by the end of 2013, a quarter were located within the boundaries of protected areas.17
Data from the Ministry of Environment shows that forest cover in protected areas fell from 36.6 percent in 2006 to 34.1 percent in 2014 and 33.5 percent in 2016.18
Environment Minister Say Samal said that the ministry set up a department of local communities to increase involvement in the protection and preservation of natural resources and national heritage.19
The Environment Ministry's annual report released in December 2016 recorded 592 forest crimes in protected areas, 452 wildlife crimes, 152 fishing crimes and 57 land crimes.20 Authorities seized 235.21 cubic meters of luxury wood and also numerous vehicles, 323 chainsaws and 24 guns. Fourteen sawmills and 134 charcoal kilns were shut down.
Last updated: 25 November 2017
Related to protected areas