Cambodia is one of the most biodiverse countries in Southeast Asia. Biodiversity supports Cambodians ecologically, economically and culturally.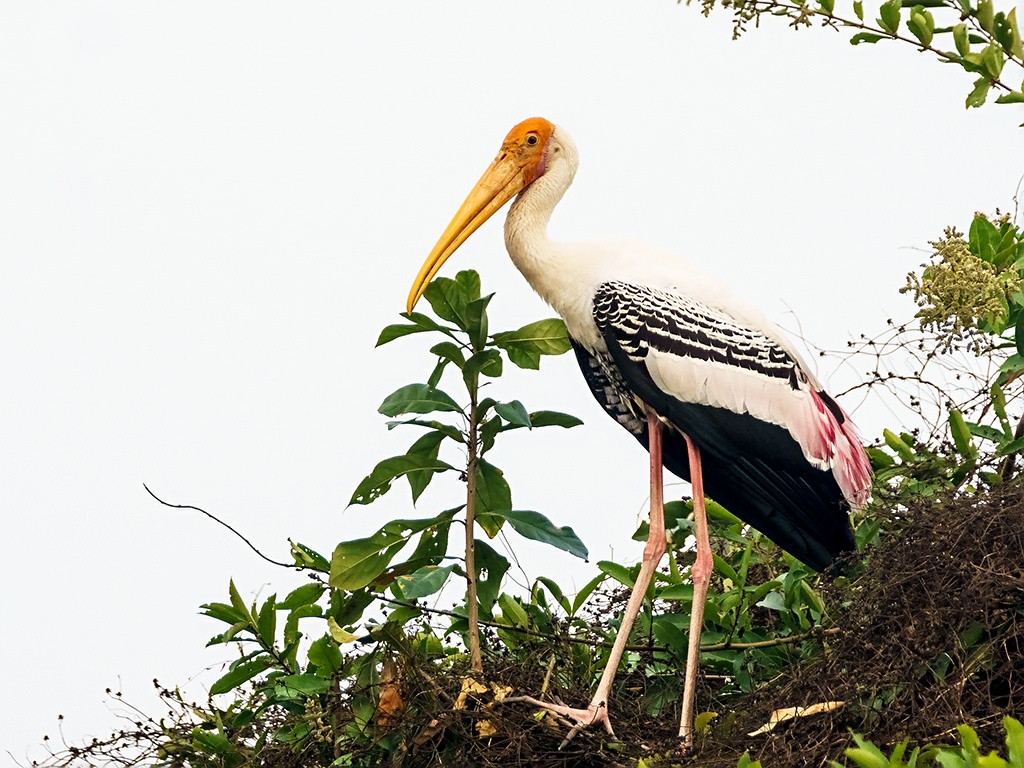 Prek Toal Bird Sanctuary, Tonle Sap, Siem Reap province, Cambodia. Photo by David Cook, taken on 15 February 2015. Licensed under CC BY-NC 2.0.
The current status of Cambodia's biodiversity
According to Cambodia's National Report on Protected Areas and Development, the seven biodiversity management regions across the country are (1) south-western coastal ranges and marine waters, (2) northern plains, (3) north-eastern forest, (4) Kampong Cham, (5) Mekong Delta region, (6) Tonle Sap floodplain, and (7) north-western region.1
The Kingdom is home to more than 135 species of mammals, 599 species of birds, 173 species of reptiles, 72 species of amphibians, 350 species of moths and butterflies, 955 fresh and marine fish and aquatic species, and more than 4,500 vascular plant species, according to the Fifth National Report to the Convention on Biological Diversity 2014.2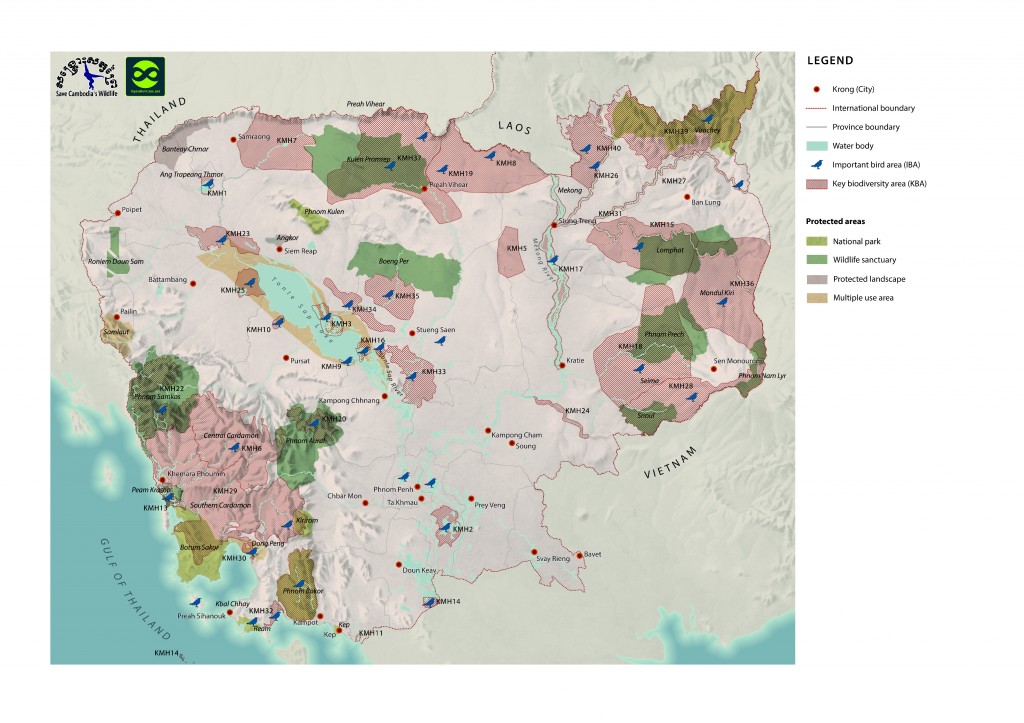 Key Biodiversity and Important Bird Area (KBAs/IBAs) in Cambodia. Atlas of Cambodia 2013, Save Cambodia's Wildlife, 2nd edition.
National and international initiatives
The establishment of protected areas is not only nationally significant for biodiversity protection, but also internationally important for managing and conserving the natural and cultural values and achieving long term ecosystem services management.
The role of protected areas becomes increasingly significant for managing and developing the environment and biodiversity protection in Cambodia. The Royal Decree on the Creation and Designation of Protected Areas established 23 protected areas in 1993, covering about 3,273,300 hectares across the country, which is under the jurisdiction of the Ministry of Environment (MOE).3
Cambodia has four Ramsar sites designated as 'Wetlands of International Importance', with a total area of 75,942 hectares.4
The Royal Government of Cambodia (RGC) developed the National Biodiversity Strategy and Action Plan in 2002 to maintain biological diversity, manage human activities, use biological resources in a sustainable manner and ensure the use of biological resources contributes to poverty reduction.5
With its commitment to the sustainability of the environment and biodiversity use, the RGC has taken steps forward by signing up to many international conventions including:6
Emerging trends
Since it is a developing agrarian country, Cambodia's economic and social development greatly relies on natural resource exploitation. Balancing the needs of economic development with sustainable natural resources use remains a major challenge for the government.
Deforestation and agricultural encroachment are the most common challenges to biodiversity protection in the Kingdom. The rising investment of economic land concessions, agricultural expansion and intensification, logging, mining and dam development are significant threats to biodiversity depletion, especially affecting endangered species.
The current datasets of 2014 forest cover, protected areas, forest areas and fisheries can be found on Open Development Cambodia (ODC). However, data and information on the status and trends of wildlife remains scarce.
Last updated: 25 September 2017
Related to environmental and biodiversity protection