In 2003, a national sector review for hydropower was prepared by the Ministry for Industry, Mines and Energy (now Ministry of Mines and Energy) and the Cambodian National Mekong Committee (CNMC). This report identified 60 possible sites for hydropower development in Cambodia and estimated the country's total generation potential at 10,000MW, of which 50% is on the mainstream Mekong, 40% on its tributaries and 10% in the southwest outside the Mekong basin.1 By the start of 2019, Cambodia had not constructed any dams on the mainstream of the Mekong River.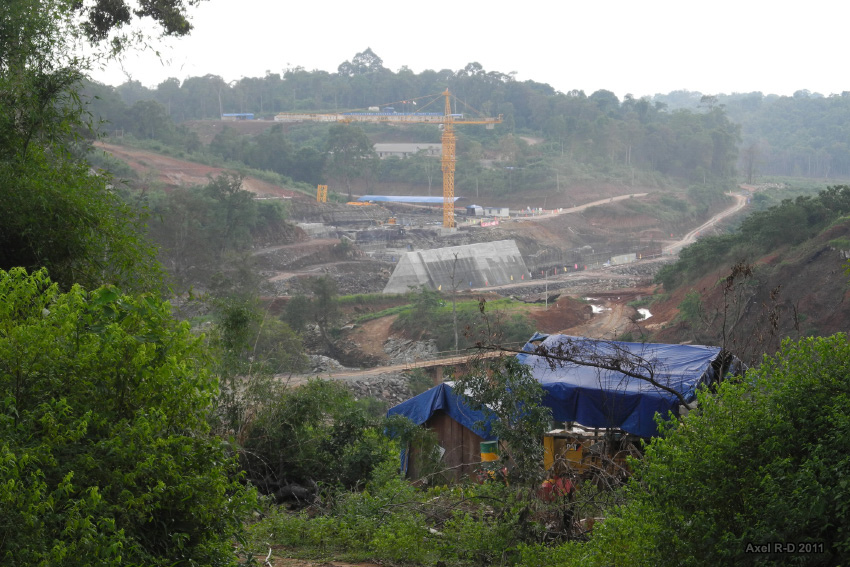 Dam under construction. Photo by Axel Drainville, taken on 26 April 2011. Licensed under CC BY-NC 2.0.
The current situation of hydropower dam development
The production of electricity from hydropower dams has increased enormously in recent years. In 2011, for example, production from this energy source was just 51.5 GWh;2 by 2016 it had grown almost 50 times, to 2567.9 GWh as more dams came into operation.3
Operating dams include:4
Kirirom I (12MW) in Kampong Speu
Kamchay (193MW) in Kampot, which started operating in 2011
Kirirom III (18MW), which started operating in 2013
Stung Atai (120MW) in Pursat, which started operating in 2013
Lower Russei Chrum (338MW) in Koh Kong, which started operating in 2014
Stung Tatai (246MW) in Koh Kong, which began power production in 2014
Lower Sesan II (400MW) in Stung Treng province, officially opened in 2018.
These are connected to the national grid. There is also a hydro plant in Ratanakiri and another in Mondulkiri, connected to the Ratanakiri and Mondulkiri power systems of EDC.5
The Lower Sesan II was developed by Hydrolancang International Energy of China (51%), the Royal Group (39%) and Vietnam Electricity (EVN) (10%).6 The dam was built under a 'build-operate-transfer' (BOT) structure with a 45-year concession period.
In early 2016 the Ministry of Mines and Energy set up a committee chaired by Energy Minister Suy Sem to resolve compensation and resettlement issues for 1,000 families displaced by the dam. Many affected families rejected the government's compensation package of an 80 m2 house and 5 hectares of plantation land apiece, regardless of their old property values.7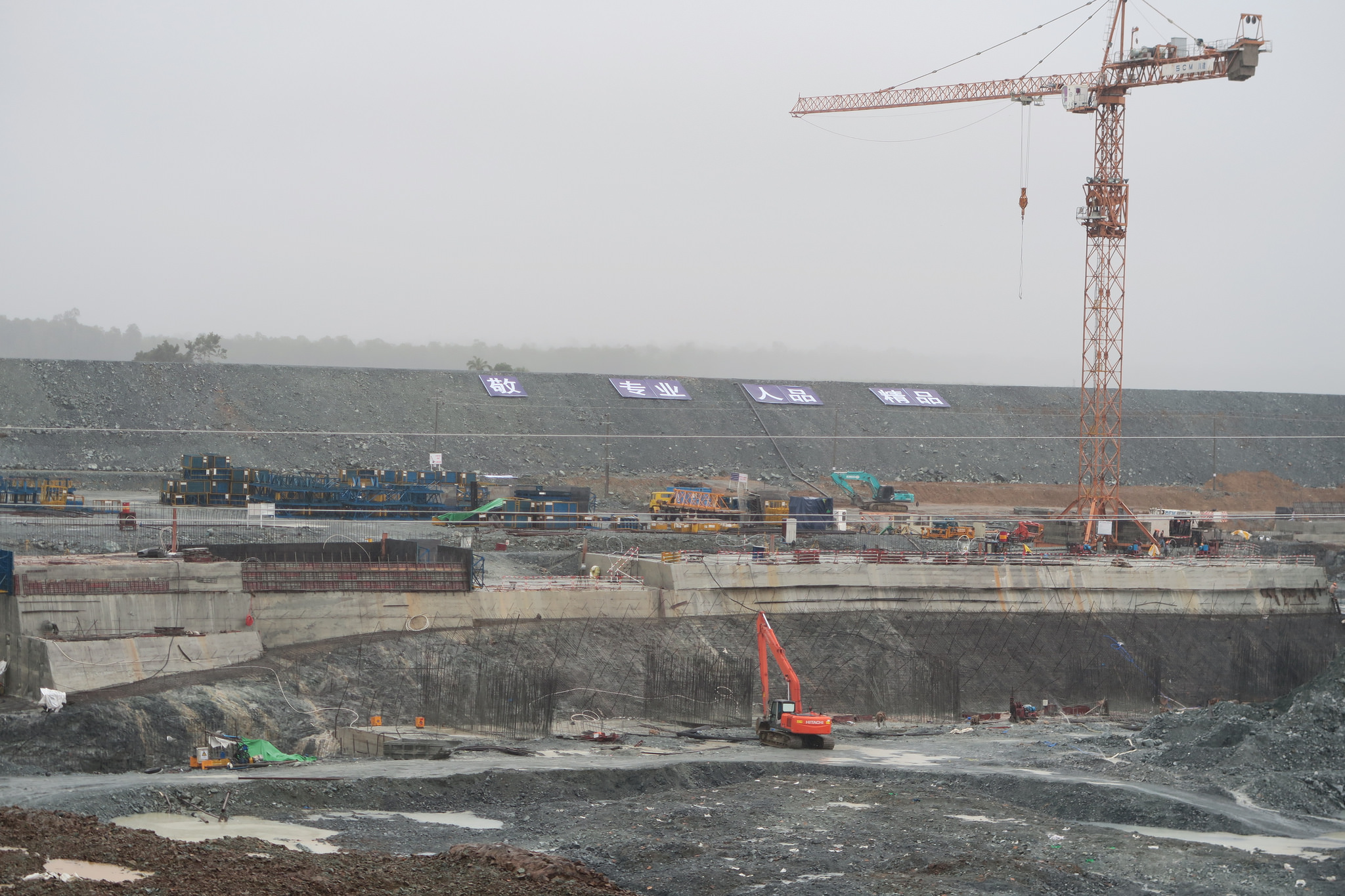 Cambodia's Lower Sesan 2 dam. Photo by​ Prachatai, taken on 24 June 2015. Licensed under CC BY-NC-ND 2.0.
A number of other projects in the northeast are currently being studied for feasibility, including the Lower Sesan 3, Lower Sesan 1/5, Lower Srepok 3 & 4, and Prek Liang 1 & 2. In the southeast, the Stung Cheay Areng has also been studied.8 However, the proposals for a dam in the Areng valley were strongly opposed by environmentalists and ethnic minorities in the area. The proposal has apparently been shelved, with Prime Minister Hun Sen reported as saying that a new coal plant would be constructed in Preah Sihanouk province instead.9
In February 2019, investigation over a potential new hydro dam in Pursat province was reported. With an estimated cost of $160 million, the dam would produce 80 MW of electricity.10
Two large dams have also been considered on the Mekong mainstream at Sambor (465MW) and Stung Treng (980MW), however, there is considerable controversy related to the development of mainstream dams.
Legal framework and regulation for hydropower
The main government ministry responsible for the development of the Cambodian hydropower sector is MME (formerly MIME).11 The State power company Electricity du Cambodge (EdC) is responsible for day-to-day aspects of management of the electricity sector and the Electricity Authority of Cambodia (EAC) for issuing generation and transmission licenses.12
There is currently no law on hydropower in Cambodia, although there are a number of laws with relevance to the development and running of such projects, including the laws related to investment, electricity, land, forests, water resources and the environment.
The first step in developing a hydropower project is to seek a Memorandum of Understanding with MME in order to conduct and prepare a feasibility study, which can typically take one to two years to complete. After completion of the study a company may enter further discussion with MME about developing the project.13
All projects with investment of over US$50 million and all BOT projects must be approved by the Council for the Development of Cambodia (CDC),14 which is the highest decision-making body for private and public sector investment in Cambodia.15 In addition, under the Law on Water Resource Management, all hydropower projects require a water use license from MOWRAM.16
All hydropower projects must be subject to an environmental impact assessment prior to approval,17 and environmental impact assessments (EIAs) should be conducted according to the procedures set out by the Ministry of Environment (MoE).18 The findings of the EIA should be considered in the final decision whether or not to approve a project.
Emerging trends
As the hydropower sector in Cambodia is still in the early stages of development it is not clear what long-term trends will emerge. Likewise, it is still unclear if and how the benefits will be realized and whether or not impacts will be adequately mitigated.
It is clear that many of these large hydropower projects will flood large areas of land, for example, the Lower Sesan 2 will flood more than 340 km2. Many of the proposed sites are in forested areas with rich biodiversity and sensitive eco-systems, which stand to be severely impacted by this type of development. Impacts on fish migrations and access to forest products threaten to harm the livelihoods of local people, as does the inundation of agricultural and residential land.
A large study by the Mekong River Commission ('the Council study') found a large potential impact on the Kingdom's food security from dam development.19 Modelling work that assumed all the planned Mekong River system dams went ahead predicted a fall in fish production of up to 70 percent across the Mekong basin. For Cambodia, annual GDP losses of $3–5 billion were projected in scenarios going out to 2040.20 A secretary of state at the Ministry of Agriculture, Forestry and Fisheries, Nao Thuok, was reported as saying that the government is already assuming a 16 to 30 percent drop in fish biomass.
Large hydropower projects by their very nature will inevitably have considerable impacts on the environment, and must therefore be subject to adequate impact assessment, and if approved must have appropriate mitigation measures in place to reduce any negative impacts.
Prospects for the future
The Cambodian energy sector needs considerable development in generation and transmission if it is to meet the growing needs of the country and provide a stable and affordable power supply to potential investors in industry. The government sees hydropower as a priority area for development in the energy sector. Over recent years, investors and developers from China, Vietnam, Korea, Russia, Canada and Japan have all studied the opportunities for hydropower development in Cambodia.
Concerns have been raised by civil society and communities affected by hydropower projects that inadequate attention is being paid to the negative impacts and public consultation is inadequate. High quality environmental impact assessments and open decision making are crucial to ensure that the hydropower sector is developed in a way that minimizes harm while maximizing the benefits for Cambodia and its investors.
Last updated: 27 February 2019
Related to hydropower dams