Protected Forests are generally established under individual sub-decrees, specifically for the purpose of protecting biodiversity and conservation. They are home to many endangered or threatened species. The Mondul Kiri Protected Forest, for example, is home to three wild cattle species, cats such as tigers and leopards, sun bears and various primates and birds.1 There are elephants, bears, and seven species of cat in the Seima Protected Forest.2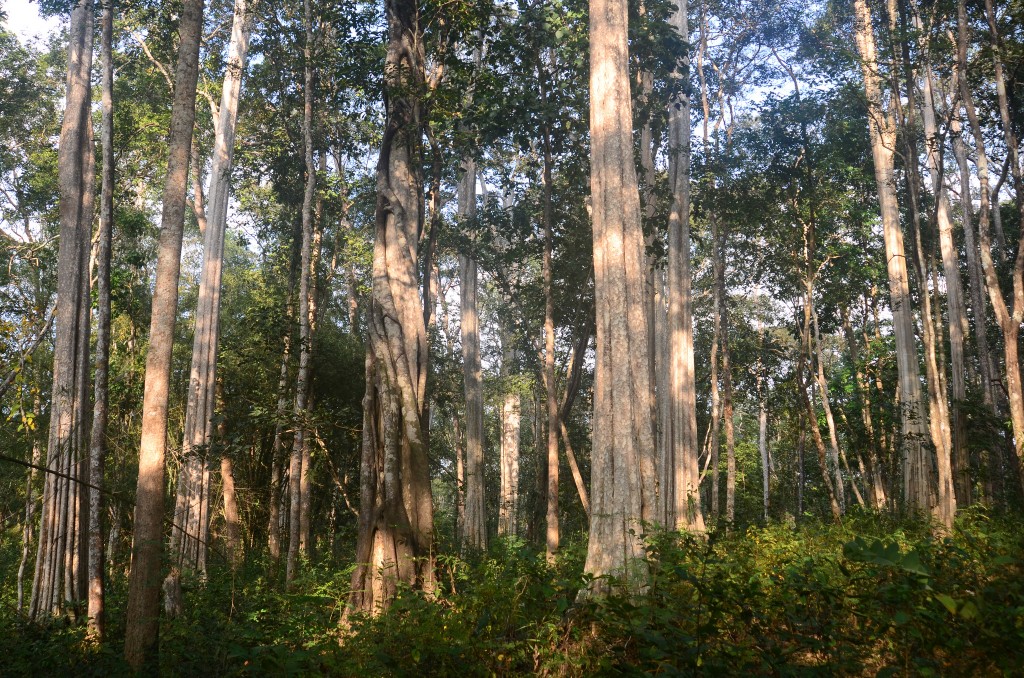 Mondul Kiri Protected Forest, Cambodia. Photo by Global Water Forum, taken on 23 February 2014. Licensed under CC BY-NC-SA 2.0.
In addition to their conservation and biodiversity values, protected forests also directly support a number of human communities: rivers in the Central Cardamoms Protected Forest are the key source of water for over 30,000 people, for example.3
Previously, these forests were managed by the Forest Administration, part of the Ministry of Agriculture, Forestry and Fisheries (MAFF). However, under sub-decree No. 69 on the Transfer of the Protected Forest, Forest Conservation and Production Forest Areas, and Economic Land Concessions between MAFF, and MoE (Ministry of Environment), dated 28 April 2016, the protected forests are now under the management of the MoE.4
The government also receives technical assistance in its management from bodies such as WWF (Mondul Kiri) the Wildlife Alliance and Conservation International (the Cardamoms) and Wildlife Conservation Society (Seima).
As a result of the subsequent sub-decrees in May 2016, all of the protected forests were then transformed into natural protected areas, except Ta Moa Protected Forest in Takeo province, with a land area of 2,285 hectares. Over a half of these natural protected areas are under the classification of wildlife sanctuary.
List of Protected Forests added to Natural Protected Areas in 2016.
No
Name of
protected forest
Name of NPA
Size
(ha)
Location
Sub-decree
1
Preah Vihear
Protected Forest
Chheb Wildlife
Sanctuary
190,027
Preah Vihear
& Stung Treng
2
Mondul Kiri
Protected Forest
Srepok Wildlife
Sanctuary
372,971
Mondul Kiri
No 85,
9 May 2016
3
Central Cardamom
Mountains
Protected Forest
Central Cardamom
Mountains
National Park
401,313
Koh Kong,
Pursat,
Kampong Speu
No.81,
9 May 2016
4
Ang Trapeang
Thmor Crane
Sanctuary
Ang Trapeang Thmor
Protected Landscape
12,650

Banteay
Meanchey

No.100,
23 May 2016
5
Southwest Elephant
Corridor
Protected Forest
Tatai Wildlife
Sanctuary
144,275
Koh Kong
No.80,
9 May 2016
6
Ou Ya Dav Game
Hunting Park
Protected Forest
Ou Ya Dav
National Park
101,348
Ratanak Kiri
No.82,
9 May 2016
7
Seima P
rotected Forest
Keo Seima
Wildlife Sanctuary
292,690
Ratanak Kiri,
Kratie
No.83,
9 May 2016
8
Western Siem
Pang Protected Forest
Siem Pang
Wildlife Sanctuary
66,932
Stung Treng
No.86,
9 May 2016
Deforestation sometimes occurs in protected forests, although at a much lower rate than surrounding forests. Conservation International estimates a deforestation rate of 2% for the Central Cardamom Mountains Protected Forest over a six-year period.5
According to Sub-decree No.69, both the MoE and MAFF are responsible for cracking down on any illegal logging. While MAFF manages economic land concessions, MoE manages protected forests, forest conservation and production forest areas in addition to the natural protected areas. The transfer of responsibilities should be followed by the allocation of resources to match the new responsibilities.
Last updated: 9 June 2016
Related to protected forests